Microsoft revealed more information Friday about Windows 10's enterprise-oriented features. Expected around the middle of next year, the new operating system will include a variety of new UI elements to make it more user friendly than Windows 8, including a Start menu, virtual desktops, and resizable Windows Store apps that behave more like legacy apps. Though less visible than these UI changes, Windows 10's beneath-the-hood improvements for enterprises will be equally important, allowing businesses to deploy and manage the OS more easily than they have with past versions.
In a Friday blog post, the company said Windows 10 will allow devices to connect to cloud-oriented Azure Active Directory (AD), adding to current support in Windows for the traditional version of AD. Users will be able to log in to Windows with Azure AD accounts, and they'll be able to mix both AD and Azure AD together.
Microsoft also said AD and Azure AD will work well when used in tandem. If a user accesses a computer using his AD credentials, for example, Windows can automatically log him into cloud-based services such as Office 365 or the Windows Store, all without requiring the user to enter Azure AD information. Microsoft says this approach means users will no longer need to remember multiple user IDs and passwords.
[Does your data center need updating? Read Big Data: A Backup Nightmare?]
Microsoft also announced Friday that Windows 10's device management options will be more expansive than Windows 8.1's. In the latter OS, Microsoft introduced mobile device management (MDM) capabilities that allowed enterprises to manage PCs, tablets, and smartphones with one technique. This addition was designed primarily for "bring your own device" (BYOD) scenarios, but in Windows 10, Microsoft will add MDM options for corporate-owned devices. The additions will include support for managing multiple users who share a single device, full control over the Windows Store, VPN and device-wipe capabilities, and the configuration of Enterprise Data Protection policies.
The newly announced features add to the growing list of enterprise-oriented Windows 10 touches that Microsoft has revealed in the last few weeks. In late October, the company said it is working to make Windows 10 easier to deploy. For example, the OS will impose the same hardware requirements as Windows 7 and 8, meaning that enterprises should be able to upgrade most of their current PCs.
Windows 10 will also support in-place upgrades, meaning admins won't have to wipe a PC's previous OS before installing Win 10. What's more, the upgrades will preserve all the apps, data, and configurations from the version of Windows being replaced; once Windows 10 has been installed, users shouldn't have to go hunting for lost documents or reinstall missing apps.
"We understand the challenges that many organizations experienced as part of their Windows XP to Windows 7 migrations, and are working hard to ensure that compatibility between Windows 7, Windows 8 and Windows 10 is excellent," the company said in a blog post.
Windows 10 will also feature new runtime configuration tools that will allow enterprises to configure devices for business use without performing reimaging. This potentially time-saving feature will support configuration tasks that include the provisioning of WiFi, VPN, and e-mail profiles, as well as enforcement of security policies and the installation of apps, language packs, and security updates. Windows 10 will also allow admins to enroll devices automatically into an MDM service for ongoing management. In the blog post, Microsoft said that the new configuration flexibility could enable "choose your own device" scenarios for employees.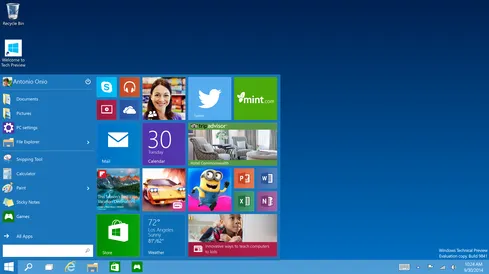 Earlier in October, Microsoft said Windows 10 will boast improved security, including a new two-factor authentication feature that treats the device as one factor and a user PIN or biometric signature (such as a fingerprint) as the other. The OS will separate personal and corporate data -- another element that could be useful in BYOD environments.
Will Windows 10's improved interface and enhanced enterprise management features help Microsoft score after two years of stumbling with Windows 8? Sound off in the comments.
Apply now for the 2015 InformationWeek Elite 100, which recognizes the most innovative users of technology to advance a company's business goals. Winners will be recognized at the InformationWeek Conference, April 27-28, 2015, at the Mandalay Bay in Las Vegas. Application period ends Jan. 9, 2015.