It has been a hectic week for keeping an eye on Redmond, where the Microsoft team has been rolling out changes to Windows 10, Skype for Business, and Office 2016 while dealing with yet another major corporate change.
Not long after a structural revamp resulted in the departure of executives including Stephen Elop and Kirill Tatarinov, it looks like about 1,300 more employees will be packing their bags. Many will be headed to new offices at AOL and Uber, others to new desks in Redmond.
That's right -- Microsoft this week announced plans to transfer its display advertising business to AOL. As part of a 10-year deal, AOL will sell display ads on its own properties, Outlook.com, Xbox, Skype, MSN, and various apps in foreign countries. It will also adopt Bing as its primary search engine.
[Windows 10 vs. Mac OS X: Which would you choose?]
Uber will acquire the mapping technology and image collection that were once part of Bing Maps. Microsoft employees, specifically data-collection engineers, will receive offers to join Uber. It's safe to say that the ride-sharing business has big plans for the wave of talent and technologies it's about to receive, though those details were not disclosed.
On the Windows 10 front, we saw not one but two builds released to the Fast ring of Windows Insiders. The first of the week, Build 10158, reached Insiders on July 29. There were not "any significant known issues for this build worth noting," Microsoft officials wrote.
Build 10158 brought quite a few changes, including bug fixes, a more refined UI, and plenty of updates to a newly branded and more customizable Microsoft Edge browser. Insiders can use their voices to create, edit, and send emails using Cortana, which can also track flights and packages.
While they were using Build 10158, Microsoft officials were also testing Build 10159. The newer build was quickly deemed ready for the Fast ring and rolled out to Insiders on July 1. Microsoft reports that Build 10159 brings over 300 fixes, which are more subtle refinements than major changes. Based on the latest build, Windows 10 is looking good for its July 29 launch.
Microsoft also gave us a few productivity updates. Enterprise customers on Office 365 were happy to learn of new Skype for Business services, which were released for preview this week.
New features include Skype Meeting Broadcast, which can be used to broadcast meetings to a maximum of 10,000 attendees. Participants can tune in via browser on the device of their choice, pause and rewind the presentation, and interact with the host and audience members through Yammer integration.
Skype for Business will also let meeting invitees join sessions on a landline or mobile phone, an appealing option for people who are traveling and/or lack Internet access. Enterprise customers can also make or receive calls through Skype for Business or existing phone lines.
The Office 2016 preview was updated with a few new features. Users can test six new charts in Excel and real-time co-authoring in Word. You can experiment with real-time typing by saving a document to OneDrive and inviting colleagues to work on it with you.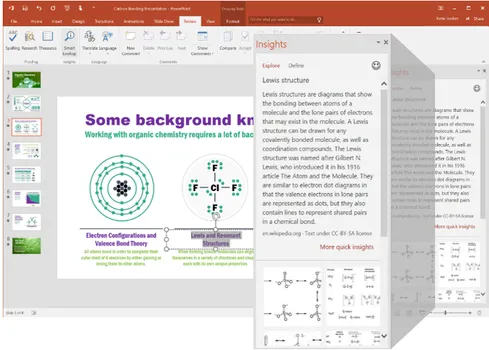 Excel and PowerPoint have been updated to include Insights, which delivers contextual information from the Internet to help you fact-check or research different topics without leaving the app. If you need to research a certain command, you can type what you want to do in the "Tell Me" box at the top of Word, Excel, PowerPoint, and Outlook, and the tool will help you find the command you need.
A subtle but nifty feature in Word, PowerPoint, and Excel lets you convert handwritten equations to typed text. Use the "Insert Equation" feature to write mathematical equations with your mouse, your finger, or a digital pen. Office will automatically convert it to digital type.