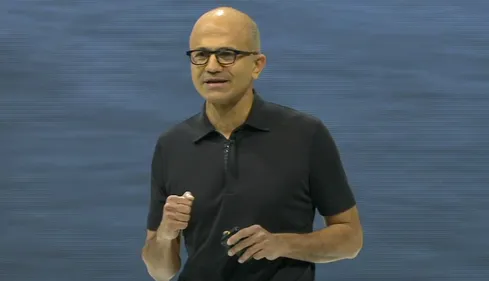 Windows 10, HoloLens, Office: Microsoft Details Its Vision
(Click image for larger view and slideshow.)
If you're not a fan of the "Windows 10" name, don't hold your breath for Microsoft's next major OS release. The company has confirmed that the upcoming OS will be its last. Microsoft will continue to deliver updates to Windows 10, but those will be in the form of smaller incremental fixes rather than large product launches.
While a huge shift for the company, this wasn't the only news out of Redmond this week.
Early this week we learned about Microsoft's latest major cloud-focused initiative. For the past nine months, it has been investing in fiber partnerships that span oceans and continents. The ultimate goal is to boost cloud capacity.
In a partnership among Microsoft, Hibernia, and Aqua Comms, each company will connect a high-speed data cable from Microsoft's data center infrastructures in North America, Ireland, and the UK. Microsoft is also part of a consortium composed of China Mobile, China Unicom, China Telecom, Chunghwa Telecom, and KT Corp. It hopes this project will enable faster data connections at lower cost.
[8 Microsoft Office Alternatives]
This week we also got a handy guide for common commands on Microsoft' Hyper-V virtual environment. The Hyper-V tools are used to virtualize hardware in order to create an environment that enables users to process multiple operating systems at the same time on a single computer or physical system.
Professionals eager to use Skype for Business will be happy to learn of positive reviews on Microsoft's newly rebranded communication service. Research indicates that 52% of 540 surveyed IT professionals have adopted Skype for Business. Of the respondents, 63% considered the voice quality better, and 90% thought it "better" or "much better" than their legacy systems.
We also learned about the widespread availability of Skype Translator, a relatively new feature in Skype that lets users chat in their native languages while their friend/family member/colleague receives translated messages in real time. Microsoft expanded its preview of the service for anyone to try, Neowin reported.
Wednesday brought more updates on Windows 10. Even though Windows 10 will deliver Universal Windows apps that share a similar code base, it will also arrive in a variety of editions to suit the needs of Microsoft's various user groups.
The upcoming editions of Windows 10 include Windows 10 Mobile, Windows 10 Pro, Windows 10 Enterprise, Windows 10 Home, and Windows 10 Mobile Enterprise. The full versions of Home, Mobile, and Pro will be available as free upgrades to customers running Windows 7, 8.1, and Windows Phone 8.1 for one year following the Windows 10 launch.
Speaking of Windows 10, Microsoft released a new Windows 10 Mobile update this week to a broader variety of Windows Phones. Officials noted that even though Windows 10 will arrive on desktops before it's available for smartphones, the underlying OS code will be the same across both desktops and phones.
Windows Insiders in the Fast ring who download the preview will get a first look at Windows Store Beta for phones and new apps for Camera, Music Preview, Video Preview, and Xbox. This build will also deliver the Universal Office apps in preview later this month. Insiders should proceed with caution, as the build comes with bugs.
Speaking of rollouts, Microsoft also released its Hyperlapse video technology, which is designed to use speed for making long videos more compressed and exciting. Hyperlapse, which applies the concept of timelapse to long videos, can be used to streamline old or new clips. It's available on Windows Phone and in preview on Android devices. A Pro version is available for preview on desktops.
[Did you miss any of the InformationWeek conference in Las Vegas last month? Don't worry: We have you covered. Check out what our speakers had to say and see tweets from the show. Let's keep the conversation going.]