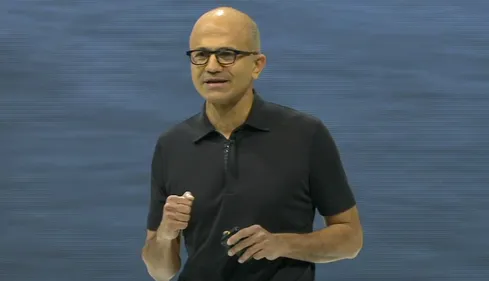 Windows 10, HoloLens, Office: Microsoft Details Its Vision
(Click image for larger view and slideshow.)
The latest iteration of the Windows 10 Insider Preview for phones has arrived for the Fast ring of Windows Insiders. Those willing to brave the bugs can test new features such as the Windows Store Beta and Universal Office apps.
While we have a somewhat narrow range of dates for the anticipated Windows 10 desktop launch, Microsoft has kept mum about the Windows 10 mobile release. As of now, we only know that desktop users will see the new OS first. Microsoft does note that despite the timing discrepancy, the underlying OS code will be the same across phones and desktops.
Since it was first released to a very limited pool of Windows Phone owners, the mobile preview has been expanded to support a broad variety of phones. Build 10080 will accommodate additional devices, including the Lumia 930/Lumia Icon, Lumia 640 and 640XL, and the HTC One (M8) for Windows -- the first non-Lumia phone to run the preview.
[Windows 10 Editions: Which One Is For You?]
Build 10080 arrives a little over a month after its predecessor, Build 10051. Insiders who downloaded that preview got an early look at Project Spartan -- now Microsoft's Edge browser -- Mail and Calendar updates, new Phone and Messaging apps, a Maps app, and App Switcher.
Similarly, Build 10080 delivers a range of new features, as described by Microsoft in a May 14 blog post. Read on for a list of what Insiders can expect to see, and what non-Insiders (as well as those who don't want to run buggy software) are missing:
Universal Office Apps
The arrival of Store Beta means Insiders will be able to download the preview versions of Word, Excel, PowerPoint, and OneNote by the end of this month. All apps will be optimized for quick edits, mark-ups, and touchscreen use. The interface adjusts to the smaller smartphone screen by pushing commands and controls to the bottom, so it's easier for you to make one-handed edits with your thumb. Before you download the Office apps, be sure to read up on known issues affecting the previews.
Windows Store Beta For Phones
Build 10080 brings Store (Beta), an early look at the Windows Store for phones. It has a new design similar to the desktop offering and lets you browse, search, and download apps, though Microsoft notes that both app selection and markets are limited. The Movies & TV page works; Music does not. Carrier billing is not yet enabled.
New Camera App
Microsoft recommends testing HDR (magic wand icon), video stabilization, and facial recognition in the camera preview window. High-end Lumias (1520, 1020, 930, 830, 640, and 640XL) have a few features that the new Camera doesn't support. It'll still work, but they'll have to use the Lumia Camera app for full functionality. Insiders can make the new Camera app their default camera by going to Settings > System > Photos & Camera. And don't hold your comments back -- Microsoft seems eager to learn what you think about this app.
Music Preview
A new Music Preview app brings the ability to access music collections and play songs, including those on OneDrive, with an improved interface for swiping from tune to tune. Future improvements will include a Live Tile with the current song, the ability to pin favorite songs to the Start screen, and an option to shop for songs in Store Beta.
Video Preview
This lets you browse and play video files, filter and sort through your collection, add folders of videos, and browse and play movies or TV shows you have bought/rented via Xbox Video. In future builds, Microsoft promises the ability to download movies and shows for offline viewing, in addition to better search results, film reviews, and cast information.
Xbox App
Xbox for Windows 10 is available in Store Beta. The mobile app gives you access to your activity feed, friends list, achievements, activity alerts, messages, and the ability to watch Game DVR clips and connect to Xbox One.
Microsoft has also drawn attention to several known issues that arise in Build 10080. Here are a few problems that might affect Insiders testing the preview:
Migration issues include duplicate tiles for Search and Phone under All Apps, "Pending" alerts under some apps, failure of apps stored on SD cards to migrate, and appearance of the old email app with "Error" text.
Cellular data connection will get turned off when upgrading from Windows 8.1. Turn on by accessing Settings > Network & Wireless > Cellular and SIM.
MMS messages may be lost. Turn on cellular data connection to avoid this error.
Cortana (in eligible regions) may crash. Avoid by checking that your region/language/speech settings are restored to default before upgrading.
Insider Hub will not launch when upgrading from Build 10051; will work when upgrading from Windows 8.1.
Post-upgrade, uninstalled apps may still appear on All Apps list. Restart device to address this.
Auto-update is not enabled in apps installed via Store Beta; must be update manually.
[Did you miss any of the InformationWeek conference in Las Vegas last month? Don't worry: We have you covered. Check out what our speakers had to say and see tweets from the show. Let's keep the conversation going.]