Last weekend, former Microsoft CEO Bill Gates wrote an email to employees in celebration of the company's 40th birthday. The past four decades have been dotted with great successes and not-so-great disappointments, but Gates seems optimistic about the future ahead.
And with good reason -- middle age doesn't seem to be slowing Microsoft one bit. We got our usual host of updates from Redmond this week, running the gamut from Windows 10 updates to Office 365 security fixes.
It looks like Microsoft might be the next player jumping into the mobile payments game. Back in February, the company submitted an application to be licensed as a money transmitter in all US states. The application, discovered by banking consultant Faisal Kahn, indicates that Microsoft is planning its own mobile payments platform, reports Ars Technica.
Though the news surfaced this week, it's too early for Microsoft to confirm the existence of a payment system. A spokesperson for the company noted that "becoming a money service business gives us the flexibility to provide new, innovative cloud services to our customers but we do not have any product announcements at this time."
[Microsoft Brings Tech to US Diplomacy Center]
We also learned about the first details regarding a major update to Windows 10 expected to roll out in 2016. The project, currently codenamed Redstone, has been confirmed to Neowin by two internal sources at Microsoft.
The first version of Redstone for Windows 10 will reportedly launch in June 2016, with another version following in October. Both will be more significant than the minor updates coming to the new OS, but not large enough to warrant a "Windows 11" name change. It has been suggested that Redstone will provide necessary support for devices not included in Windows 10 upon its launch, such as HoloLens and Surface Hub.
Office 365 got a security update on Wednesday, when Microsoft announced Advanced Threat Protection (ATP) for Exchange Online. The current version of Exchange Online Protection (EOP) protects against spam, viruses, and malware, but the update is designed to act as an advanced filtering service to block specific types of advanced threats.
ATP will reportedly provide protection from unknown viruses and malware, reporting and URL trace capabilities, and real-time safeguarding against malicious URLs. It's currently in private preview and is expected to roll out as an optional service for Office 365 commercial customers this summer.
On Thursday, we learned that Microsoft will be strengthening its relationship with Dropbox by adding further integration to Office Online. As part of this update, users will be able to update Word, Excel, and PowerPoint files located within Dropbox directly from their browser through Office Online.
From within Office Online, users will be able to access their Dropbox account, save new files, or open existing Dropbox files without exiting the online productivity suite. This in-depth integration is available for Dropbox for Business users with an Office 365 license, in addition to Dropbox Basic and Pro customers.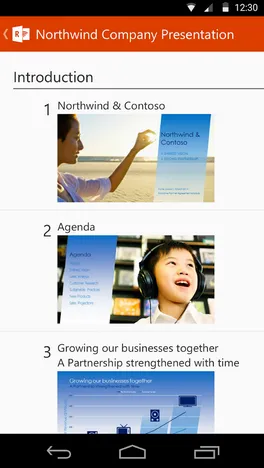 We got another Office-related update when Microsoft announced Office Remote for Android. The app lets users control apps like Word, Excel, and PowerPoint on PCs directly from their smartphone. This announcement shortly follows the announcement of Office Lens for iOS and Android, another instance of Microsoft releasing its products on Apple and Samsung devices.
Windows Phone users got a pleasant surprise to end their week as Microsoft delivered the newest build of Windows 10 for phones. This build brings in an early version of Project Spartan in addition to updated Mail, Messaging, People, Calendar, and Maps apps. It's available on a much wider range of Windows Phones.
Attend Interop Las Vegas, the leading independent technology conference and expo series designed to inspire, inform, and connect the world's IT community. In 2015, look for all new programs, networking opportunities, and classes that will help you set your organization's IT action plan. It happens April 27 to May 1. Register with Discount Code MPOIWK for $200 off Total Access & Conference Passes.