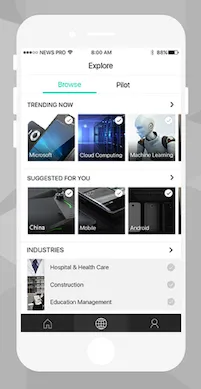 10 Cool Microsoft Garage Projects You Didn't Know About
(Click image for larger view and slideshow.)
Microsoft has launched a new website for anyone who is curious about the features and fixes released in each Windows 10 update.
On a new Windows 10 update history website, Microsoft will provide notes on each update as it rolls out. The site will serve as a hub for historical information on previous Windows 10 updates, and it will be revised with new data for each release.
The creation of the website could potentially be a response to heightened demands for transparency among Windows users. Microsoft has encouraged users to submit their opinions on the new OS to inform future changes.
[Microsoft and Google: Jumping into the cloud competition.]
"After listening to feedback regarding the level of disclosure for Windows 10 updates, we decided to implement a new system for communicating updates to the operating system," said a Microsoft spokesperson.
Windows 10 marked a significant change in the way Microsoft planned to update its OS. Instead of releasing major numbered releases, its Windows-as-a-Service model would include regular updates to add new features and address problems.
Redmond has been consistent in releasing these updates since releasing Windows 10 to the public last summer.
However, it has been difficult to determine what is new in each update, especially if the changes are minor. Microsoft has been sharing the details of different releases in posts on its Windows Blog, but there has never been a central location for all update details.
To be fair, most consumers don't have much interest in the changes arriving on their PCs each month. The update history site could prove a valuable resource for business users or IT administrators who need to keep track of fixes in case something goes wrong.
When Microsoft launched the Windows 10 history website on Feb. 9, it also rolled out a cumulative update. This release, which will bring the most current Windows systems to 10586.104, is the first to come with notes.
The accompanying notes indicate this update fixes problems across Windows 10, including authentication and update installation, app downloads, Windows 10 Mobile, and Internet Explorer 11.
The most recent release also addresses several security issues affecting .NET Framework, Active Directory Federation Services, Windows Journal, and kernel-mode drivers. It also fixes a security problem in Microsoft Edge and Internet Explorer 11 that could have allowed code from a malicious website to be installed and run on a PC.
Release notes for the various changes range from specific and helpful to decidedly vague.
For example, "Fixed issue that didn't allow simultaneous install of apps from the Windows Store and updates from Windows Update" is specific and says exactly what was wrong.
However, "Fixed additional issues with the Windows UX, Windows 10 Mobile, Internet Explorer 11, Microsoft Edge, and taskbar," is more general and prompts further questions.
Microsoft ramped up the aggression on its Windows 10 push in January, when it announced its "Get Windows 10" alerts would be arriving on business PCs. Shortly after, we learned hardware with new CPUs will not support Windows 7 or Windows 8.1.
Does your company offer the most rewarding place to work in IT? Do you know of an organization that stands out from the pack when it comes to how IT workers are treated? Make your voice heard. Submit your entry now for InformationWeek's People's Choice Award. Full details and a submission form can be found here.