configured to the user's preference, she'll be able to launch Modern apps without ever accessing the Start screen or clicking on a Live Tile. She'll also be able to switch among Modern apps and legacy titles from the taskbar. Microsoft OS chief Terry Myerson said last week that users can't expect windowed Modern apps or a full Start menu until later, but even now, the Modern UI and the desktop UI are merging.
4. The Start screen gets a mouse-friendly makeover.
Microsoft knows users dislike both the Start screen and the jarring experience of jumping between desktop and Modern interfaces, and it's making concessions. But it still hopes users will give the Start screen a chance.
Previously, Windows 8.1 required that mouse-and-keyboard users click on a Live Tile to activate it, and then navigate to the bottom of the screen to access controls. This process is now much faster and less tedious; if a user right-clicks a Tile, he'll summon a context menu with options for moving, resizing, organizing, uninstalling, or unpinning the app.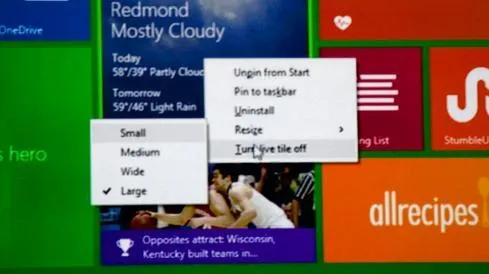 The Start screen now includes a search tool in the top right. Users can still simply begin typing to initiate a search, but the visual cue should make upgrading Windows XP and Windows 7 users feel more at home. A power button has likewise been added, though it won't appear on smaller tablets.
The update also adds a group of new Tiles for commonly used settings and locations: This PC/My Computer; PC Settings; Documents; and Pictures.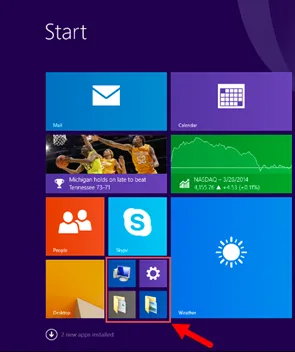 In another nod to mouse-and-keyboard users, the update makes hot corners less aggressive. Before, it was too easy to accidently launch the Search charm and other corner-driven functions. Now, the system pauses to see if users linger in a corner, in which case it activates the appropriate task. If the user quickly moves to another part of the screen the system continues as normal.
5. Installation will be easier -- and more mandatory -- for some than others.
If you're running Windows 8 or Windows 8.1, the new update is free and available through the normal Windows Update process. From here it gets a little confusing. First, if you're currently running Windows 8.1, this first update is mandatory -- if you want to continue to get security updates from Microsoft. If you're still running Windows 8, you can ignore this update and Microsoft will support Windows 8 through 2015.
However, if you're running Windows 8 and want the very latest operating system, you'll need to upgrade to Windows 8.1 first and then proceed to the update.
Even once you have the update installed, you might still need to dive into PC Settings to implement all desired changes. The update incorporates some tweaks according to the type of hardware on which it's installed, such as defaulting non-touch devices to boot-to-desktop. When we updated a Surface Pro tablet, for instance, the option to minimize apps and right-click Live Tiles was deactivated. Though the tablet can be used like a laptop, its touch-centricism determined its default behavior.
If you're running Windows XP or Windows 7, you'll need a new Windows license to upgrade. The standard version is $120 and the Pro version is $200. Upgrading from XP to Windows 8 has always been an iffy proposition, but the new update shrinks the OS's footprint, which might help a few older machines to make the leap. Microsoft representatives at Build declined to speculate whether Windows 8.1's newly slimmed-down profile would help it to run on aging hardware, however. Microsoft made Windows 8.1 leaner in order to enable cheaper devices, not to offer new pathways for longtime XP customers.
Cheaper devices bring up another upgrade consideration. If you're running Windows 7 and considering a Windows 8.1 license, you might get more value out of a new machine, especially if you're interested in moving from a PC to a tablet. Some of the least expensive devices cost little more than the licenses themselves, and, with Windows licenses now free to tablet OEMs, even cheaper options should be on the way.
Emerging standards for hybrid clouds and converged datacenters promise to break vendors' proprietary hold. Also in the Lose The Lock-In issue of InformationWeek: The future datacenter will come in a neat package (free registration required).