and-keyboard users. Live Tiles can now be resized, unpinned, uninstalled, and otherwise manipulated via right-click context menus. Previously, mouse users had to select a Live Tile, then navigate to the bottom of the screen to access controls. With the new interface, Live Tile clean-up is significantly faster.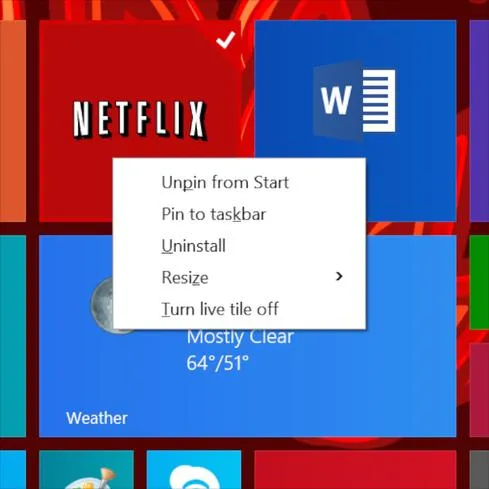 You can also easily customize how densely apps are displayed. The Settings charm includes a "Tiles" menu that lets choose between smaller, more tightly-packed rows of tiles, or a bigger, more spacious arrangement. The same menu includes similar controls for the All Apps view.
7. Learn to deal with the All Apps screen.
Speaking of the All Apps view, you'd better learn to deal with it. As mentioned, only so many apps fit on the taskbar. The Start screen isn't limited in the same way-- but you shouldn't overuse Live Tiles either. The Start screen can be a useful interface when confined to your most-used apps, but if you populate it with hundreds of tiles, it's more trouble than it's worth. That means that to quickly find your less-used apps, you'll need to remember the specific name so you can quickly search, or get comfortable sifting through the All Apps screen.
To access All Apps, either swipe up from the bottom of the Start screen, or, if you're using a mouse, click the downward-pointing arrow in the bottom left. Apps can be sorted several ways, including by name, installation date, usage, and category (i.e. desktop vs. Modern).
8. Look for new apps -- they don't show up by themselves.

When you install new Windows Store apps, they automatically show up in the All Apps view but not on the Start screen or taskbar. Luckily, Windows 8.1 Update includes several visual cues to help you find newly-installed titles. A notification briefly pops into the top-right corner once the app has finished downloading, for example. Another notification appears in the bottom-left corner, near the "All Apps" arrow, until the user opens the app.
Emerging standards for hybrid clouds and converged datacenters promise to break vendors' proprietary hold. Also in the Lose The Lock-In issue of InformationWeek: The future datacenter will come in a neat package (free registration required).