Screenshots of the next version of Windows, codenamed "Threshold," have allegedly leaked online and appear to confirm many recent reports. Notably, the images indicate that after making the desktop user interface too touch-oriented in Windows 8, Microsoft will move to a more Windows 7-like model with Threshold, but with a new look and a reconsidered role for Modern apps. In some ways, however, the screenshots are most intriguing for what they don't include.
German sites WinFuture and ComputerBase each published an identical set of 20 screenshots, allegedly from Threshold build 9834. Microsoft reps have said the company has nothing to share, but ZDNet and Neowin, both of which have good track records for Microsoft product leaks, said the images appear legitimate. ZDNet's Mary Jo Foley suggested the screenshots were grabbed from a build Microsoft recently released to partners.
The screenshots feature the new Start menu that Microsoft first teased in April; users criticized Microsoft for omitting the Start menu from Windows 8. The new version appears to include elements that should be familiar to Windows 7 users, as well the new ability to integrate Modern apps, and to access the device's power controls. Past rumors suggest the Start menu's look could be highly customizable.
[We bet you didn't think of these wearable gadgets. Read 5 Apple Wearables We Wanted But Didn't Get.]
The leaked images also show Modern apps running in floating windows, as legacy apps do. Microsoft confirmed last spring that this feature is coming, but the images add a few new wrinkles. In the top-left of the windows, Threshold Modern apps include a drop-down menu that lists functions such as sharing and printing, which Windows 8 and 8.1 currently put in the Charms menu.
This change is consistent with previous reports that Microsoft will altogether eliminate Charms, which many Windows 8 users found disorienting because the feature remains hidden until users trigger it via swipes or hot corners. Nevertheless, Foley said the Charms menu might be present in the Windows preview that Microsoft is expected to announce in coming weeks. She said most app vendors haven't had a chance to update their apps for Threshold, making Charms necessary in the short term. The Charms menu is reportedly slated for removal by the time Threshold hits the market early next year.
Various reports claim Threshold will load a different UI depending on the type of device on which it's running, so the Charms might still be present for tablet users. The new dropdown menu in the screenshots is clearly designed with mouse-and-keyboard users in mind and does not appear to be touch friendly.
The screenshots also support earlier rumors that Microsoft will adopt a flatter design for the desktop UI. Other images show additional rumored features, including a Notification Center, and support for virtual desktops. In the alleged leaked build, the implementation of the latter feature looks a lot like it does in Apple's OS X, except that virtual desktops stream across the bottom of the screen, just above the taskbar, as users move among them.
According to other recent rumors, Microsoft's Threshold preview will include a feature that lets users easily submit feedback. The screenshots support this claim but don't reveal whether Microsoft's feedback strategy will fulfill the most intriguing rumors, which say users will be given different versions of the Threshold preview, with different features, depending on the kind of feedback they provide. CEO Satya Nadella has said he wants Microsoft to iterate rapidly, improving Windows with a perpetual stream of updates, instead of big service packs that arrive every few years. This sort of public testing process could help.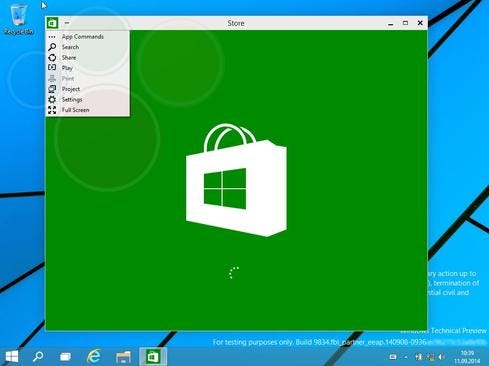 The screenshots' omissions are just as intriguing. The images suggest build 9834 is still using Internet Explorer 11, for instance, even though IE 12 rumors have begun to pick up steam. The screenshots also lack references to either "Threshold" or "Windows 9." Instead, all references merely say "Windows." Some reports have suggested Microsoft will opt for "Windows 9" in order to distance the OS from its predecessor's poor reputation. But other indications, including some from Nadella himself, suggest Microsoft will not only drop version numbers, but also stop differentiating between Windows Phone and Windows.
This rumored branding change would be consistent with Microsoft's recent moves, such as converging all versions of Windows to a common core, and announcing support for Modern apps that can run on anything from desktops to smartphones to the Xbox. Nadella has repeatedly said Microsoft services should flow seamlessly across devices, and by making Windows an all-encompassing ecosystem, rather than a series of discrete products, the company could amplify this message. The new branding is also consistent with reports that ARM-based Windows smartphones and tablets will soon use the same UI. This expectation gained new momentum this week when the website GeekOnGadgets reported, citing a confidential internal document, that Microsoft plans to drop both "Nokia" and "Windows Phone," and make "Lumia" its "hero brand" for smartphones.
Several sources claim Microsoft will release a public preview of Threshold by early October. According to Foley, who cited unnamed sources familiar with Microsoft's plans, the company will label the release a "Public Enterprise Tech Preview" and focus it on desktop users. She said a second, more consumer-focused preview that focuses on smartphones and tablets will follow early next year. The OS's official release is expected shortly thereafter.
In its ninth year, Interop New York (Sept. 29 to Oct. 3) is the premier event for the Northeast IT market. Strongly represented vertical industries include financial services, government, and education. Join more than 5,000 attendees to learn about IT leadership, cloud, collaboration, infrastructure, mobility, risk management and security, and SDN, as well as explore 125 exhibitors' offerings. Register with Discount Code MPIWK to save $200 off Total Access & Conference Passes.