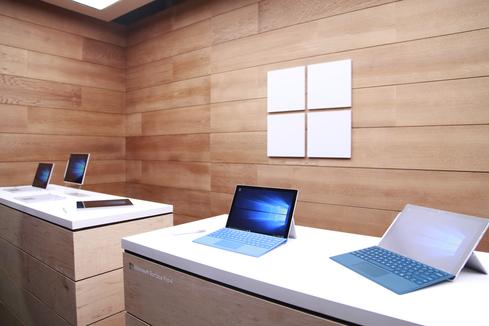 Surface Pro 4, Surface Book, Lumia 950: Microsoft's New Hardware Push
(Click image for larger view and slideshow.)
Worldwide PC shipments fell 10.8% from the third quarter of 2014 to the third quarter of this year, according to new market research. However, tech darling Apple managed to gain a bit of traction, jumping back into the number three spot in the US.
Global PC shipments totaled nearly 71 million units in the third quarter of 2015, according to an Oct. 9 report from research firm IDC. In the US, PC shipments totaled 17.3 million units, down slightly year-over-year.
IDC originally predicted a 9% decline in worldwide PC sales from the third quarter of 2014 to the third quarter of this year.
HP maintained its leadership position, followed in second place by Dell. Apple reclaimed a place in the top three, narrowly edging out Lenovo in volume, while Toshiba rounded out the top five.
According to a concurrent report from IT research firm Gartner, worldwide PC shipments totaled 73.7 million units in the third quarter of 2015, a 7.7% decline from the third quarter of 2014.
Aligning with worldwide trends, the US market experienced growth in notebooks and premium ultramobiles, which was offset by desktop PC shipment declines.
Although Windows 10 was launched in the third quarter of 2015, it had a minimal impact on shipments during the third quarter, according to the Gartner report.
The IDC report also noted the July launch of Windows 10 had an immediate suppressive impact as many consumers took advantage of the free upgrade.
"The PC market continues to contract as expected, but we remain optimistic about future shipments," Jay Chou, research manager for IDC's Worldwide PC Tracker, wrote in the report. "While PC shipments will be hampered in the short run by the availability of a free upgrade to Windows 10, the improved PC experience across user segments should drive longer-term demand for new PC hardware that is expected help stabilize the market in 2016 and beyond."
Lenovo was the top PC vendor with 14.9 million units shipping, a decline of nearly 5% compared to a year ago, according to IDC
[Read why Microsoft continues to struggle in the mobile market.]
Flattening performance in the Asia/Pacific (APAC) region and lackluster volume elsewhere was offset by a strong quarter in the Americas, thanks to Lenovo's strategy of rapidly expanding partnerships, and the introduction of a variety of hybrid laptops that are detachable and available in a wide range of price points.
While the third quarter results illustrated gloomy market conditions for the PC market, there is a positive aspect in the results, according to Gartner analyst Mikako Kitagawa.
"This change in consumer preferences toward PCs was visible in the preliminary data, as we saw positive growth in US notebook and premium ultramobile shipments," Kitagawa wrote. "Soft recovery is expected to start in 4Q15, as Windows 10 product refreshes start to appear. In the meantime, PC manufacturers should adjust configurations for 2016 without the impact of price hikes seen in 2015, which will lead into more stable market conditions in the upcoming year."
The IDC report also noted that, in the Europe, Middle East, and Africa region (EMEA), currency fluctuations, together with ongoing economic and political turmoil in parts of that region, continued to inhibit demand and constrain shipments of PCs. Those shipments have posted double-digit declines.