When a school serving a community so poor that 100% of the students qualify for free or reduced-price lunches invests in technology, they expect results. When those results are dramatic -- and impressive -- the lessons learned go far beyond the classroom.
At FETC 2015 in Orlando, Fla., I sat down with Kirsten Wright, an educational specialist with the Desert Sands, Calif., Unified School District. Wright told me about the district's experience of adding inexpensive laptop computers -- Chromebooks -- to its classrooms and the impact those computers have had on the faculty, students, and parents that make up the school communities.
The first way that computers came into the classroom in the Desert Sands USD was through the use of responders (or "clickers") that students used to answer objective (true/false, multiple choice, etc.) test questions. This rollout was in 2007. When the Chromebooks began to be introduced, in 2010, their initial use was as a responder replacement. They allowed for more complex questions and tighter integration into the school's administrative systems. It was at this point, Wright said, that the big improvements began to be seen.
"Test scores were available to teachers almost instantly and to parents within half an hour of test completion," Wright said. This rapid turn-around meant that teachers could see which students needed additional help and which topics had been least understood while the class was still in progress. Correction or additional instruction could begin almost immediately. The results for students have been dramatic.
California uses an API (Academic Performance Index) to measure the performance of a school's overall population. Out of 1,000 possible points on the API, the pilot school began the technology rollout with a score in the mid-300s. In the 2013/2014 assessment, the same school scored over 860. Wright said that this represents a level of improvement that's not possible if technology is simply dumped into the hands of students. Wright trains the teachers and says that teacher involvement and enthusiasm is critical for real classroom improvement from laptop deployment.
Getting teachers involved in new technology can be difficult -- teachers work long hours before any new technology is introduced -- but one factor in the rollout gave Desert Sands teachers the "lightbulb" moment that radically boosted their enthusiasm.
"When teachers realized that they didn't have to spend time grading tests and transferring grades into the gradebook it was huge," Wright said. "I had teachers coming up to me saying that they could finally go out to see a movie on Friday night!"
A number of teachers have eagerly embraced the laptops in their classrooms.
[What's new in education IT? Read 4 Education Technology Trends To Watch.]
Having gone from 300 Chromebooks to more than 20,000 in three years, the district has now begun a pilot project to put tablet devices into classrooms. In one of the early classes, an early elementary classroom, the teacher has used NFC (near-field communication) tags, in order to help students log into academic Web sites without typing long addresses and credentials, and QR codes as part of word-search scavenger games that result in student-written entries in their on-line school journals.
Desert Sands USD has used Samsung as its primary hardware partner for Chromebooks and tablets. Jennifer Langan, director of mobile computing marketing for the Enterprise Business Division of Samsung Electronics America, said that one of the features most appealing to Desert Sands and other school districts is the consistent interface and unified ecosystem for tablets and Chromebook laptops. With one interface to learn and a single backend management system to synchronize, update, back up, and manage all the devices, schools feel they can deploy the systems without overloading support staff.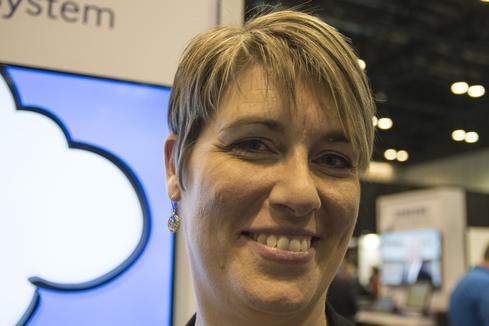 Wright agreed, pointing out that Desert Sands USD has limited purchases to a handful of models for the express purpose of minimizing complexity for teachers and support staff. The savings from that simplicity mean that the district has been able to use the $52 million in grants received over the last decade to pay for support staff (including Wright), laptops, tablets, a 10-gigabit Ethernet backbone connecting the district's schools, and much more.
Kirsten Wright said that the experimentation isn't over. In addition to deploying tablets in more classrooms, she said that the district is looking into the logistics and legalities of allowing students to "check out" Chromebooks to take home. In a school district where computer ownership is far from a given, she sees such lending as the next step toward bringing impoverished students into the rarified world of the academically excellent.
Attend Interop Las Vegas, the leading independent technology conference and expo series designed to inspire, inform, and connect the world's IT community. In 2015, look for all new programs, networking opportunities, and classes that will help you set your organization's IT action plan. It happens April 27 to May 1. Register with Discount Code MPOIWK for $200 off Total Access & Conference Passes.