only from Intel's current-generation Haswell Core chips, but starting in January, Dell will also offer configurations built around Celeron and Broadwell chips. The Haswell models top out at 4 GB of RAM, while those with the upcoming Core chips will be able to support four times more.
Display options include a 1366x768-pixel, non-touch model; a touch version with the same resolution, protected by Corning Gorilla Glass; and a Full HD version. Configurations can be built around Intel's integrated graphics, or around discrete NVIDIA cards. Dell claims the 3000 series can deliver all-day battery life. It offers 500 GB of storage, a memory card reader, and a variety of ports. At around 22 mm thick and 4.2 pounds, it's not the lightest laptop around -- but it's much svelter than the budget-minded commercial PCs available a few years ago.
Dell also introduced a ruggedized version of its Latitude 14; hoping to convey its toughness, company execs hammered the device out of a block of cement, and then tossed it haphazardly to the floor. Built to satisfy various military specifications and standards for dust, water, and heat-resistance, the ruggedized model represents another way Dell caters to a specific, niche market.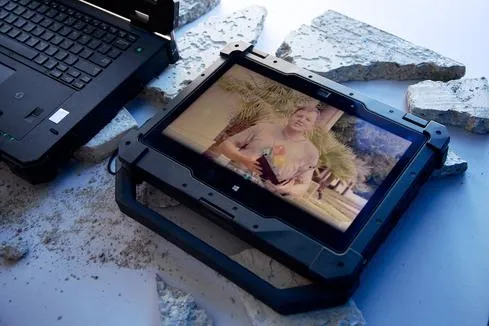 Dell's Latitude 15 3000 series also received a refresh. The 15.6-inch laptop is lighter and thinner than previous models, and offers business-friendly perks including all-day battery life and a spill-resistant keyboard with optional backlighting. It's available in almost all the same configurations as the Latitude 14 3000 series, but with a bigger screen and options for twice as much storage.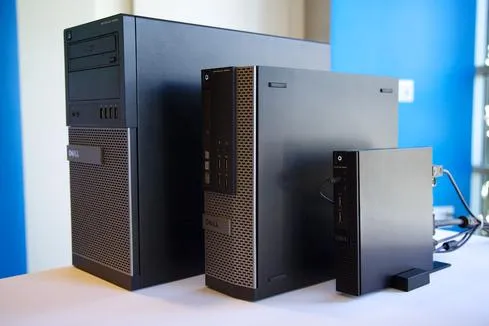 Finally, Dell also introduced a new Micro line within its OptiPlex family of desktops. Schell said that as important as mobility is, a lot of people still want desktops, and with the new OptiPlex, those people can now deploy their PCs in new ways. The newest OptiPlex chassis measures only 7.17 x 1.4 x 6.93 inches, which enables a number of mounting possibilities. The new OptiPlexes are small enough to attach to the back of a monitor, for example, providing a scenario in which the computer needn't have a physical footprint on a desk, and in which IT can still easily access the hardware. Dell offers a variety of mounting accessories to enable these scenarios.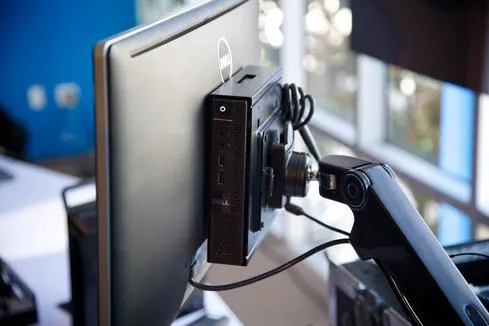 Dell introduced two OptiPlex Micro options -- the OptiPlex 3020 and the OptiPlex 9020. Despite their Lilliputian dimensions, the devices can pack a lot of power; processor options range from dual-core Intel Pentium and Celeron processors all the way up to quad-core Haswell Core chips with integrated graphics. The 3020 tops out with i5 processors and 16 GB of RAM, while the 9020 can run the beefier i7 variant and support up to 32 GB of memory. Options with discrete graphics cards from AMD are also available. The 9020 also offers additional storage options, including support for RAID setups.
The OptiPlex Micro models starts at $499 and are already available worldwide. The Latitude 5000 Series starts at $769 and will be available in the US, Europe, and Asia starting later this month. The Latitude 3000 laptops start at $640 and are currently available in Asia, but Dell hasn't said when they will reach other markets. Finally, the Latitude 13 7000 Series 2-in-1 will start at $1,199. It will be available in mid-October, making it one of the first Broadwell devices to reach users.
Other manufacturers such as Lenovo and Asus have also announced ultrathin, fanless laptops that will use Broadwell chips. Apple is also reportedly going to use the chips in a 12-inch MacBook with a redesigned trackpad, fanless design, and Retina display, though the most recent rumors suggest the device might not debut until next year.
Network Computing's new Must Reads is a compendium of our best recent coverage of data backup and protection. Learn what you should consider before choosing a cloud backup service, why you must reduce your data footprint if you're going to protect data, and more. Get the new Data Backup & Protection issue of Network Computing Must Reads today. (Free registration required.)