HP Inc. chose The New York Times International Luxury Conference in Versailles April 5 to introduce the newest addition to its luxury line of laptops: The HP Spectre 13.3.
It's a device designed from the premise that there's a customer who wants a very thin and light laptop that feels almost like a "precious piece of jewelry," said Michael L. Nash, vice president of customer experience and portfolio strategy, during an early viewing for the press.
The Spectre appears primarily in a color HP calls Ash Silver -- and indeed it's arguably a more luxe shade of silver than is common. But what catches the eye most is a strip of copper at its seam, and, when it's open, two copper links that could be cufflinks, or the rose-gold earrings of a Versailles resident.
Those links are one of three innovations in the Spectre that have Nash excited. They're eye-catchers, yes, but they also hide a piston system that makes for smooth opening and closing, and what HP refers to as a "hingeless design illusion."
"We kind of grabbed an idea from maybe a high-end cabinet or furniture maker. The hinge recesses back into the device," Nash explained.
While a cabinet opens outward on a horizontal curve, experiencing consistent gravity forces and therefore minimal friction, a laptop that opens and closes on a vertical curve endures significant friction. That is where the pistons come in.
"The pistons make sure the hinge has a very consistent feel every time," said Nash. "We want to make sure that the way the device feels on day one is the same when it's three-years-old."
A more critical, if less obvious innovation, is the Spectre's battery and cooling system.
"To build a device that's 10.4 mm and has this kind of battery life, you have to change the overall course of cooling," Nash explained. "Normally what you do, when you're cooling a Core i7 device, is you put a heat-sync on top of the CPU, and you build fans to blow air across the CPU. […] But [not] in this case, because there wasn't room for that."
HP's engineers instead used fans to create hyperbaric chambers that force air across the CPU and then out the back of the device.
This allows for a much slimmer overall design and more flexibility in terms of how the machine's board is laid out. They further broke the battery into four parts, in what they call a "hover pack" -- a flat, compartmentalized battery that sits on top of the board.
Customers will have a choice of sixth-generation Intel Core i5 and i7 processors. Also on board are 8GB of memory and up to 512GB PCle SSD for extra storage.

Are you prepared for a new world of enterprise mobility? Attend the Wireless & Mobility Track at Interop Las Vegas, May 2-6. Register now!
The HP Spectre also runs Microsoft's Windows 10 operating system.
Finally -- and here people very strong feelings -- HP also rethought the Spectre's keyboard and reduced the "key travel time" from 1.55 mm to 1.3 mm, a change said to be more comfortable and efficient.
"I was very skeptical of 1.33," said Nash, "but now I like it even more."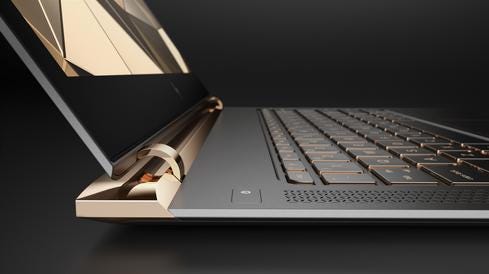 Such tweaks also speak to HP's need to address a very wide array of customers. According to Nash, who spends quite a bit of time in Best Buy stores asking questions and getting feedback, HP has many different types of customers.
"Clusters of customers represent a demand curve, and with multiple demand curves you need multiple supply curves," he explained.
The new Spectre also features audio software by Bang & Olufsen, has a glass trackpad and a carbon fiber bottom, and uses Corning Gorilla Glass 4, which is bonded to display for added durability and a brighter result.
Who will buy the new HP Spectre over the Spectre x360?
Nash gave the laptop, sitting flat in his open palm, a few effortless pumps in the air: "The customer who wants this in their bag."
The HP Spectre will be available for preorder April 25 at HP.com and BBY.com for $1,170. On May 29, it will arrive in Best Buy stores selling at $1,250.