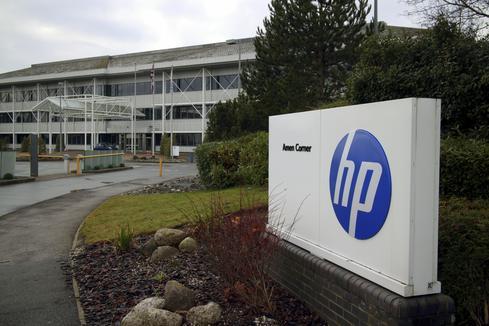 HP Milestones: A Look Back, As Tech Giant Splits In Two
(Click image for larger view and slideshow.)
HPE will spin off its Enterprise Services business unit and merge it with Computer Sciences Corp., more commonly known as CSC. HPE also reported second quarter revenue of $12.7 billion, beating analyst estimates and marking the first time in five years that the company has reported year-over-year revenue growth.
Executives are clearly planning for a leaner, more focused version of the enterprise company now known as HPE, which emerged from HP's split into two companies last year. The PC and printer company is now separate from the enterprise company. Now HPE is doing it again by spinning off Enterprise Services.
The HPE spin-off merger transaction is structured as a stock-for-stock exchange. HPE shareholders are expected to get approximately $8.5 billion in after-tax value, and they will own approximately 50% of the newly merged company, HPE said in a statement. CSC's chairman, president, and CEO, Mike Lawrie, will retain those same executive roles at the newly merged services company, and HPE CEO Meg Whitman will join the board of directors. The board of the new company will be split 50/50 between directors nominated by HPE and directors nominated by CSC.
[See how HPE did in the first quarter. Read HPE Revenues Decline in First Stand-Alone Quarter.]
HPE said that the new entity will be a $26 billion pure-play global IT services company. The transaction is expected to be completed by March 31, 2017.
"The 'spin-merger' of HPE's Enterprise Services unit with CSC is the right next step for HPE and our customers," said Whitman, in HPE's statement. "Enterprise Services' customers will benefit from a stronger, more versatile services business, better able to innovate and adapt to an ever-changing technology landscape."
HPE's Enterprise Services organization grew out of a 2008 acquisition of IT services firm EDS for $13.9 billion, presided over by then-HP CEO Mark Hurd.
Whitman signaled that the days are over for HPE's growth strategy being fueled by the high-profile acquisitions that made so many headlines for the company in decades past, including EDS, Compaq, Palm, and Autonomy. Instead she said, during a call with analysts, that every dollar spent on internal R&D at HPE was a dollar well spent. She expects there may be further acquisitions if the right opportunities arise, and pointed to the acquisitions of Aruba Networks and 3Par as the kind of deals that added value to the core focused business of HPE going forward.
HPE Second Quarter
HPE also announced its second-quarter numbers, including the $12.7 billion in revenue that represented an increase of 1% year-over-year. HPE reported net diluted earnings per share of 18 cents, up from 16 cents during the same period a year ago.
"Today's results represent our best performance since I joined in 2011," Whitman said, in a statement. "The businesses comprising HPE grew revenue over the prior-year period on an as reported basis for the first time in five years. We also had strong quarterly performance in every one of our business segments and generated more than $500 million in free cash flow."
HPE said its Enterprise Group revenue, which includes storage, servers and networking, grew to $7 billion, up 7% year-over-year. Enterprise Services revenue came in at $4.7 billion, down 2% year-over-year. Software revenue fell 13% year-over-year.
Ready For A New Job? InformationWeek's hosted, searchable job board can help you find your next gig. Start your search today.