Intel and Micron have created a non-volatile memory technology called 3D XPoint that promises vast improvements in device performance, storage capacity, and longevity, at an affordable cost.
Borrowing one of Apple's favorite adjectives, the two companies characterize 3D XPoint as a "revolutionary technology" that combines the distinct advantages of DRAM and NAND flash without their disadvantages.
DRAM memory is fast, which is why it's used in computers. But it's volatile, meaning it loses data when a device gets powered down. It's also expensive compared to other storage options.
NAND flash memory is non-volatile, which is why it's used in devices designed to store data. It's much faster than a hard drive, but it's about 1,500x slower than DRAM. It also has a limited lifespan, wearing out after a product-specific number of write cycles.
3D XPoint, Intel and Micron claim, offers up to 10x more density than DRAM and up to 1,000x more speed and longevity than NAND flash. It's the technological equivalent of having one's cake and eating it too, at least until reproducible benchmark tests reconcile the company's claims with real-world performance. In theory, it can serve as system and storage memory. But it's unlikely to displace DRAM where speed is a priority, at least in the near term.
Mark Adams, president of Micron, said in a statement that one of the major bottlenecks in modern computing is the time it takes for data in long-term storage to reach the processor. "This new class of non-volatile memory is a revolutionary technology that allows for quick access to enormous data sets and enables entirely new applications," he said.
Citing research from storage company EMC, Intel suggested that 3D XPoint can help deal with the growing amount of data being produced. EMC projects that by 2020, the amount of data we create and copy will reach 44 zettabytes, or 44 trillion gigabytes, up from 4.4 zettabytes in 2013.
Intel and Micron suggested the characteristics of 3D XPoint make it well-suited for gaming, high-fidelity pattern recognition, and genomics. Other applications are likely to emerge after the technology reaches the market.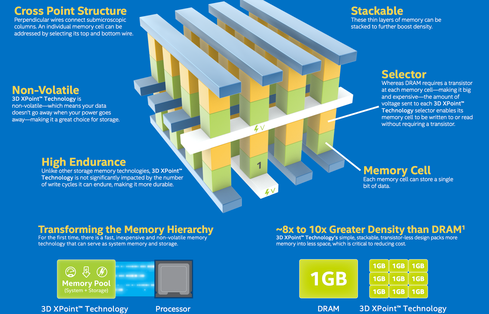 3D XPoint is the first new category of memory introduced since NAND flash debuted in 1989. Antecedents include:
NOR flash memory, used in early mobile phones and appliances (1984)
Bubble memory, used in arcade game consoles (1979)
EPROM, used in microcontrollers in the 1970s and 1980s (1971)
DRAM (1966)
SRAM (1961)
PROM (1956)
RAM (1947)
Intel and Micron described 3D XPoint as "inexpensive," but have not provided pricing details other than to say the cost should fall somewhere between NAND flash memory and DRAM in terms of price per bit. They said they intend to provide samples to select customers later this year, and expect the technology will reach the market in 2016. Each company is developing products based on the technology.