carries an even pricier base cost of $1,199. Fewer than a dozen Core M devices are expected to hit the market this year, but that number could grow to more than 20 by early 2015, including (according to unverified reports) the much-rumored 12-inch MacBook Air with Retina Display.
Will these devices revitalize PC sales? As Johnson noted, it's unlikely that one type of device -- such as 2-in-1 hybrids -- could single-handedly accomplish such a task, especially as more users gravitate toward multi-device ecosystems, with different machines matched to different tasks. But mobile devices aren't the only type of computer that's been transformed by Intel's increasingly power-efficient chips.
Today's desktop computers are smaller than external hard drives were just a few years ago, which enables the machines to be mounted to the backside of monitors or the underside of desks. This flexibility arguably falls under the sort of incremental progress that Johnson described -- but it still allows people to set up their workflows in new ways, even if they're working on "traditional" PC applications. The newest Xeon chips for workstations, meanwhile, will support DDR4 RAM, one of several enhancements that should dramatically speed up workflows for the most demanding applications.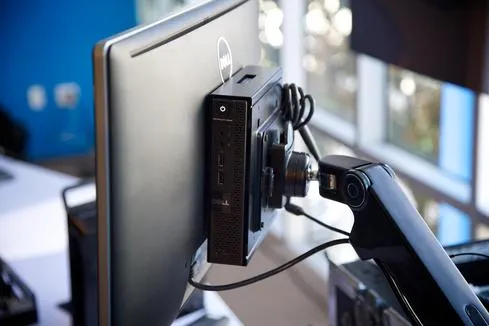 PC sales have ticked up in recent months, and sales of ARM tablets have been down, but it's premature to characterize Intel's gains as validation of its newest strategies. Heading into the second half of 2014, many enterprises already had device refreshes planned. With Windows XP's end-of-life deadline further inflating demand for new PCs, it would have been a disaster if sales hadn't improved, especially since year-over-year comparisons were already deflated by 2013's sales slump -- the worst in history.
Garrison said he's frequently asked if XP's retirement is artificially propping up Intel's business. He said Intel is bullish on long-term growth because large corporations have finally increased spending to pre-recession levels. He said that as this recovery extends to small and midsized businesses, demand for new computers (and new chips to power them) is unlikely to subside.
This logic is tricky, of course; the economic conditions that encourage a Fortune 100 company to increase IT spending aren't necessarily the same ones that affect a local business.
Garrison acknowledged this point by stressing that Intel is focused on telling customers about new use cases, rather than a device's specs and speeds. "A pet-shop owner knows how to use a PC but doesn't know a lot," he said, noting that Intel now offers its Business App Portfolio, a bundle of free software for business tablets that provides out-of-box videoconferencing, security, cloud storage, and e-signature tools. Such software demonstrates that Intel helps deliver a full, easy-to-use commercial computing experience, not just hardware components, Garrison said, adding that the strategy shows how new machines add value where aging PCs simply can't.
Garrison also discussed a recent study that found employee productivity increases if businesses deploy new devices more frequently. Companies that refresh PCs as often as every two years earn better productivity-to-cost ratios in the long run, according to the report. These benefits associated with new PCs, as well as more stylish and consumer-friendly commercial PC designs, have reduced the urgency around BYOD laptops and made it easier for companies to deploy company-controlled models, Garrison told us.
"The market isn't there yet, but it's getting there. [Recent gains] aren't just about XP. It certainly helped, but it can't come close to explaining the volume we're seeing."
But Forrester analysts haven't seen all the trends Garrison described. Johnson said the firm's research indicates most companies have increased the average lifespan of both desktops and notebooks. "There are two things driving sales in the last couple of years -- Windows migrations and the availability of thin, light Ultrabooks," he said. "Once those things get steady, I don't see refresh cycles getting shorter."
Buyers will soon get their chance to weigh in. So far, Acer, Asus, Dell, and Lenovo have announced plans to release Core M devices this year.
Network Computing's new Must Reads is a compendium of our best recent coverage of data backup and protection. Learn what you should consider before choosing a cloud backup service, why you must reduce your data footprint if you're going to protect data, and more. Get the new Data Backup & Protection issue of Network Computing Must Reads today. (Free registration required.)