Bringing to life unseen universes, rampaging dinosaurs, and other spectacles of movie magic takes more than talent and imagination. It also takes computing power -- lots of it.
"There's a bunch of stuff that's hard. It's never the same [from one movie to the next]," said Sanjay Das, COO at visual effects house Tippett Studio, in an interview. Each project brings not only the artistic challenge of fulfilling the director's creative vision, Das pointed out, but also increasing technical challenges such as rendering photo-realistic special effects in 4K resolution.
If "Tippett" rings a bell, it's probably because you've seen the name during the credits of the some of Hollywood's biggest films. Founder Phil Tippett originally worked at visual effects pioneer Industrial Light and Magic, where his credits included the Star Wars films, before founding his own studio. Tippett Studio's filmography ranges from Jurassic Park to the new Cosmos TV series.
[Are movie fans breaking the Internet? Read Geekend: Star Wars/Star Trek Rumor Mills in Hyper-Drive.]
According to Das, as filmmakers have embraced new technologies, the delivery of high-quality effects has become a bigger IT challenge. Directors routinely expect shots to be delivered in 4K resolution, which has four times more resolution than the 1080p TVs many of us have at home, for example. Those extra pixels roughly double Tippett's compute and storage needs.
Filmmakers aren't paying twice as much for pixel-rich shots, however. "Even though studios make $200 million movies, for visual effects, they get frugal," says Das.
Consequently, Tippett has had to optimize. In some cases, this involves workflow considerations, such as completing certain tasks at lower resolutions before finalizing in 4K. But Das says the company also had to upgrade its infrastructure and focus on internal development.
Tippett artists work with high-end software that includes Maya for modeling, animation, and rigging, and Nuke for compositing. But because directors often aim to push new envelopes, the company also has its own R&D team to create homegrown tools, says Das.
To build out its infrastructure, Tippett partnered with Dell. The company uses Dell's PowerEdge servers for its render farm, Dell Precision workstations to give artists real-time 3D rendering, and Dell networking and security products to connect everything.
Das, who previously worked with HP products while serving as R&D Director for DreamWorks Animation, praises Dell as a flexible partner. He told us the company took time to understand Tippett's unique challenges, "building boxes not available in the market yet, giving us those kinds of things." He added that Dell's products help Tippett to manage power and space constraints imposed by its massive render farm. "All the power we can draw from the transformer, we've maxed that."
Tippett's work on Cosmos tested the company's infrastructure agility. Effects companies often face tough deadlines while working on theatrical films, but television can present even tighter challenges. For Cosmos, Tippett had four months to complete nearly 240 shots for the 13-episode season, which wrapped up last week.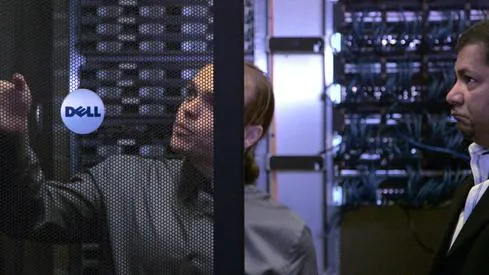 Das explained that on a feature film, there's usually some downtime between when an artist finishes a shot and when he can see the fully rendered result. To create swirling nebulae and alien landscapes while meeting deadlines, Tippett's Cosmos team required a different methodology. Tippett engaged Dell to help build out a separate pipeline for the show. If the effects had been fed into a typical render farm, Tippett's artists wouldn't have been able to modify shots as quickly as needed.
But for every technical challenge visual effects company solve, new ones pop up. Tippett Studio's upcoming projects include two high-profile sequels -- Jurassic World, fourth in the man-vs-dinosaur franchise; and Ted 2, follow-up to the 2012 comedy about a foul-mouthed teddy bear. The movies will open within two weeks of one another in June 2015, meaning Tippett will have to juggle the effects-heavy projects in the meantime. "I'm curling my toes a little, knowing what's coming in the next three to four months," Das laughed.
New standards, new security, new architectures. The Cloud First stars are finally aligning for government IT. Read the Cloud Hits Inflection Point issue of InformationWeek Government Tech Digest today.