Power BI, Microsoft's cloud-based suite of data analysis tools, is getting a few key additions. New capabilities will be added to the current preview version throughout July until it enters general availability on July 24 and preview accounts are converted to Power BI free accounts.
Last year, we saw a wave of updates enter beta testing in Power BI, a platform originally delivered via Office 365 and integrated with Excel. Power BI was designed to enable users to explore and analyze data, and then publish charts and graphs on new BI sites, in an effort to democratize business intelligence.
Earlier this year, Microsoft decided to cut ties between Office 365 and Power BI. The data analysis platform would be released as a standalone "freemium" service, a change intended to drive widespread adoption. Microsoft promised lower prices and a new Power BI website.
[How does your compensation stack up? Read: IT Salaries: It's Good To Be Chief.]
Now the preview is getting a few more powerful additions before the July 24 launch. The new features announced today reflect an ongoing effort to drive the BI market and allow more freedom in data analysis.
Although Power BI is cloud-based, "by no means do we expect everyone to move their data to the cloud," said John Doyle, director of product marketing for cloud and enterprise at Microsoft, in an interview with InformationWeek. "We want to get more people connected to data than ever before; make it easy for end-users to connect to their data and get value out of their data."
Here's a closer look at the new features arriving on Power BI and how they'll change the service:
An Open Source Project
Microsoft is opening its visualization framework and visuals built on D3.js to make it easier for customers to extend, build, and customize visuals specific to their enterprise. This is available July 10 as an open-source project on GitHub. Going forward, customers will be able to use their customized visuals in reports and dashboards in Power BI.
A Power BI Desktop
Currently known in preview as the Power BI Designer, the Desktop is a new data-reporting tool freely available on PowerBI.com. Users can drag and drop their data on a free-form canvas then explore a library of visualizations. These include new additions like matrix, area, donut charts, and waterfall and more options for formatting and color. Microsoft has added new data source support from services including Twilio, GitHub, Zendesk, SweetIQ, and AppFigures. These additions, as well as a direct connection to SQL Server Analysis Services, will be available later in July.
New Content Packs
Users who subscribe to specific services can connect to their accounts through Power BI to access prebuilt reports and dashboards. Microsoft has released content packs for 16 services, including Quickbooks Online, Salesforce, and Marketo. Other platforms, including SQL Sentry, Adobe Analytics, and Azure Mobile Engagement, will be added.
"It's a significant differentiator in the marketplace," said Doyle, who noted plans to expand the number of content packs and third-party vendors in coming months.
Apache Spark Connectivity
Current Power BI customers can already connect to Azure SQL Database, SQL Server Analysis Services, and Azure SQL Data Warehouse. Now, they'll be able to connect with Apache Spark for Azure HDInsight, a new addition for connecting to, and visualizing, large data stores. Connected dashboards and reports will query to data from the Apache Spark open-source framework.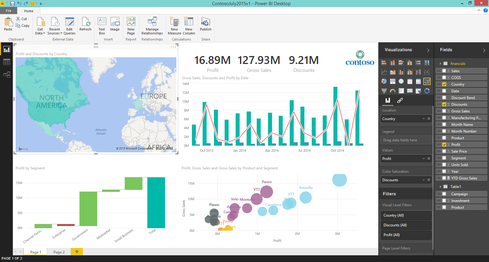 New Collaboration and Excel Support
Users will be able to import Excel workbooks to build dashboards and reports and view workbooks through Excel Online via Power BI. They'll be able to more easily collaborate on the same dashboards and datasets with new capabilities for sharing Power BI content among work groups.
Android Support
Power BI is already available on mobile for iPhone, iPad and Windows devices. Now, Microsoft has extended support to include Android smartphones.