5. Speech recognition
Natural language processing is still far from ready for use in EHRs, but progress is being made. For example, Intermountain Healthcare has been testing what it calls the industry's first speech-enabled mobile app for computerized physician order entry. The pilot started with commonly prescribed medications and is expected to progress to lab orders. Meanwhile, a growing number of EHR vendors are incorporating speech recognition into the mobile versions of their applications.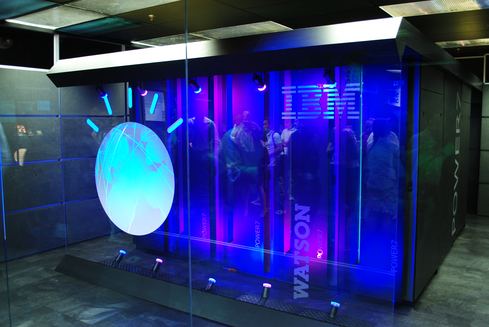 6. IBM Watson
Judging by IBM Watson's activities in healthcare this year, we're likely to see more and more applications and innovations powered by the learning-capable supercomputer. IBM and the Cleveland Clinic have developed big data analytic tools that use Watson. The MD Anderson Cancer Center is using Watson in its Moon Shots program to find cures for eight types of cancer. IBM and Memorial Sloan Kettering Cancer Center have co-created an oncology adviser that helps physicians select the best treatments for particular patients. WellPoint is using two Watson-based products it developed with IBM to streamline the insurance company's utilization review and prior authorization processes.
7. M-health apps
If the market for mobile health apps is ever going to take off, consumers and providers must have some way of distinguishing among the tens of thousands of apps on the market. The most comprehensive initiative in this area was recently unveiled by IMS Health, a research firm best known for its data on the pharmaceutical industry. IMS is offering ratings on all the 40,000-plus m-health apps in the Apple Store (or at least the 16,000 that are really health-related and consumer-oriented). It is also marketing a system for creating m-health "formularies" and prescribing these apps to patients.
HealthTap and Partners Healthcare's Center for Connected Health have created m-health curation offerings on a smaller scale. Happtique recently withdrew its m-health ratings program but may soon return to the fray. Competition in this area seems likely to heat up in 2014.
8. Cloud-based EHRs
There's nothing new about these products, formerly known as ASP-model EHRs. But a recent Black Book survey indicated that many independent physician practices are migrating to the cloud for integrated EHR/practice management systems. One reason is that these systems require a much smaller initial investment than client/server systems -- a benefit especially important when practices are switching EHRs to meet the Meaningful Use requirements. In addition, some groups use cloud vendors to outsource their revenue cycle management. The exemplar of this approach is Athenahealth, which beat out several bigger EHR vendors in a KLAS survey that ranked the usability of their products.
9. HISPs
Secure clinical messaging using the Direct protocol is expected to spread rapidly in 2014, mainly because of the information sharing requirements of Meaningful Use stage 2. As Direct grows, so will the number of health information service providers (HISPs), which are required to move messages and attachments securely between providers.
One key barrier to the development of this network is the inability of many HISPs to exchange information with one another. This is not a technical issue; it stems from a lack of trust among HISPs. DirectTrust, a nonprofit trade association, is addressing this problem by accrediting HISPs. The next step will be to create a national provider directory that lets providers use one HISP to locate the Direct addresses of providers that use other HISPs.
These five higher education CIOs are driving critical changes in an industry ripe for digital disruption. Also in the Chiefs Of The Year issue of InformationWeek: Stop bragging about your Agile processes and make them better (free registration required).