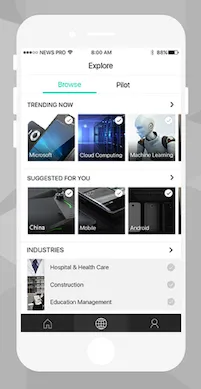 10 Cool Microsoft Garage Projects You Didn't Know About
(Click image for larger view and slideshow.)
Microsoft just registered a big customer win for Office 365.
Social media network giant Facebook will be migrating its more than 13,000 employees from the on-premises version of Microsoft's productivity suite to the cloud-based platform. Facebook will use Microsoft's cloud-based applications including Word, Excel, PowerPoint, email, and others.
Microsoft made the announcement of the Facebook customer win during a keynote address by vice president of office marketing Kirk Koeningsbauer at the Microsoft Worldwide Partner Conference in Toronto on Tuesday, July 12. The company also published a post written by Facebook CIO Tim Campos to its Office blog.
"Productivity is our most important charter, but security and efficiency are also paramount," Campos wrote in the blog post. "We need the right technology to empower employees, while also ensuring our business is safe at all times."
[What other giants made appearances at Microsoft WPC? Read Microsoft GE Partnership Targets Industrial Cloud.]
Campos called Microsoft's online productivity applications "a mature and comprehensive platform" that meets Facebook's security needs and provides the company's workforce, which is distributed around the world, with a suite of tools for collaboration that can be used on a variety of different platforms.
"It complements how we work with intelligence, flexibility, and it is continually evolving," Campos said. "It is globally deployed, accessible on every mobile platform we support, and it is secure. Most of all, it enables our productivity with powerful new capabilities for employees, such as the ability to share and edit traditional Excel documents at the same time, across devices."
But while Facebook plans to use many of Microsoft's applications, it won't be using all of them, because there are some that are competitive with Facebook's own efforts to capture the business market.
Facebook will continue to use its own Facebook at Work, a group of applications for collaboration including messaging, video conferencing, and of course a social network. So it is forgoing Microsoft's applications that offer the same benefits, such as the software giant's own social network for work, Yammer, and Skype for Business, which offers video conferencing and messaging.
Beyond the standard business suite from Microsoft, Campos said that Facebook was also looking to benefit from the additional capabilities available in Delve using Microsoft Graph.
Delve is a capability that leverages machine learning and analytics to learn patterns about each user, and then prioritizes the user's display to show what it considers most relevant.
Microsoft Graph (previously called Office 365 unified API) is a unified API endpoint that provides a way for developers to access data, intelligence, and insights that come from the Microsoft cloud. Queries can tap into information about calendars, photos, files, groups, conversations, contacts, and more.
Delve takes that a step further, analyzing the data, files and documents stored in SharePoint Online, OneDrive for Business, the Office 365 Video Portal, Microsoft Exchange email attachments, and more.
Facebook CIO Campos explained in his post: "It tells individuals who they are collaborating with the most, and how much time is being spent where. These personal analytics, and other features like Focused Inbox, help create greater effectiveness at work."
But Facebook plans to take Delve and Microsoft Graph technology a step further, using them in its own collaborative business solutions.
"We're also excited about how we can leverage the Microsoft Graph within our own internal Facebook tools and services," he wrote. "This will help our employees sift through the noise by surfacing the information that is most relevant for them."