the real-time status of your flights and details on package deliveries. Google says this approach gives you more information at a glance.
3. Get to know the buttons.
Inbox introduces a series of buttons that can be a little confusing to figure out. From the main view of Inbox, you can "sweep" a category -- denoted with a check-mark icon -- which dismisses an entire bundle of emails. When you sweep a bundle, those messages are sent to a separate Done tab, which you can access from the menu in the top-left. The Done tab is an archive of your old emails.
By clicking or tapping the thumbtack icon, you can pin emails to your inbox that you still need to read or follow-up on. If the email is part of a bundled label like Promos or Social, it will show up individually in your inbox. To dismiss a pinned item from your inbox, click the checkmark button or swipe right. If you need to find it later, you'll find it in your Done tab.
Replying to, forwarding, and creating emails is a little hard to find, too. To reply to or forward something, open up the individual email. You'll see a button with three dots above or beside the email header, and another inside the email next to the time it was delivered. Click or tap the latter to open the reply or forward options.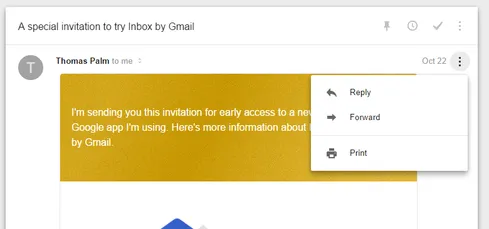 To send an email from within Inbox, click or tap the big red + button. Your most-recent contacts will appear as an icon, which you can tap or click for quick access. To compose a message, tap the red pencil icon. Inbox doesn't appear to have all the compose options that Gmail does; you can't upload a file from Drive or send and request payments, for example.
4. Use Snooze and Reminders to prioritize.
Inbox's two best features are Reminders and Snooze. Neither option is particularly new; Reminders is Inbox's version of Tasks, and Snooze is akin to the Boomerang add-on -- but Inbox does a better job of integrating them.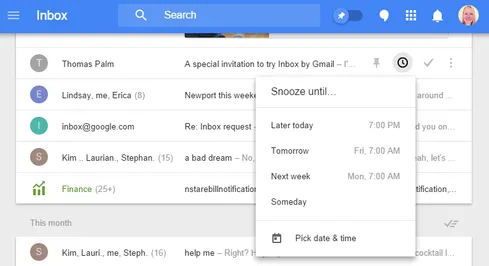 On the desktop version of Inbox, hover over an email and click the clock icon to open up your snooze options, which will bump that email to the top of your inbox at the date and time you choose. On mobile, swipe left. This option is handy for messages that you don't have time to reply to at the moment.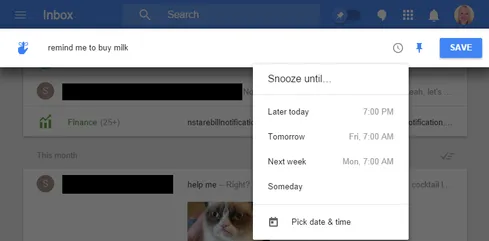 Reminders is another useful tool to help you keep on top of tasks. To set a reminder, click the red + button and choose the blue finger icon. Type in your reminder and set a time. On mobile, you can set a location-based reminder by tapping the "Pick a place" option. This requires that you turn on Location Settings. Your reminders will appear in your inbox and in Google Now, if you use it.
5. Give Inbox time.
Inbox uses a very different approach to managing your email, so there is a fairly steep learning curve. (I started using the app Wednesday night and, Thursday morning, am still getting used to the bundling and sweeping and organization of it all.) If you're a casual email user who prefers the chronological nature of Gmail, Inbox probably isn't for you. But if you feel like you're drowning in email and are looking for an alternative way to manage it, give Inbox a try, and give it time.
Considering how prevalent third-party attacks are, we need to ask hard questions about how partners and suppliers are safeguarding systems and data. In the Partners' Role In Perimeter Security report, we'll discuss concrete strategies such as setting standards that third-party providers must meet to keep your business, conducting in-depth risk assessments -- and ensuring that your network has controls in place to protect data in case these defenses fail (free registration required).