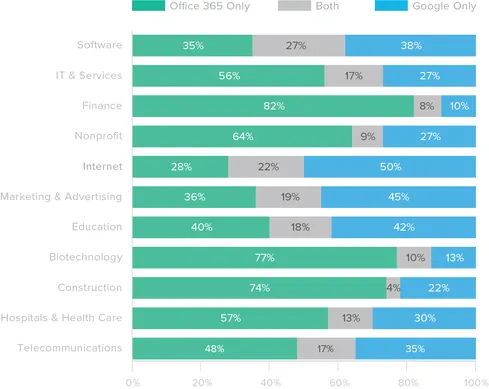 Google Apps Vs. Office 365: Which Suite Reigns Supreme?
(Click image for larger view and slideshow.)
Microsoft has taken another step towards bringing HoloLens into the enterprise. This week marked the launch of Outlook Mail and Calendar apps built for the untethered augmented reality headset.
When people think of use-cases for mixed-reality devices, gaming and entertainment spring to mind. While HoloLens will be used for leisure, Microsoft is currently focusing on its potential for business customers.
Now we're seeing its strategy unfold with the launch of Outlook apps built for augmented reality.
[Read: Microsoft is targeting Oracle customers with SQL Server 2016.]
Outlook Mail and Calendar built for HoloLens, the first holographic email and calendaring apps, will give developers the opportunity to explore how email and scheduling will work in a mixed-reality environment.
Both apps are built on the Universal Windows Platform (UWP), which delivers a familiar app experience across devices. If you're already using Outlook on a smartphone, tablet or PC, your inbox will look the same through HoloLens.
The Mail app will let you project your inbox on your office wall if you're so inclined. There, you can manage messages while multi-tasking with other digital content.
Both the Mail and Calendar apps can be resized to display more or less content. You can also customize the apps by choosing an accent color.
If you're a HoloLens developer and want to download the new Outlook apps, open the Windows Store on the headset and search for Outlook Mail and Calendar. Select "Free" and follow the installation instructions.
The arrival of Mail and Calendar on HoloLens is one of several updates on the goggles and Windows Holographic to arrive in recent weeks.
Microsoft is working to build an ecosystem around its augmented reality headset. One of the ways it's doing this is appealing to developers to create apps for the goggles. That aim was a primary focus at this year's Build conference. The $3,000 HoloLens Development Edition shipped around the same time Build started.
In addition to building an ecosystem for its own AR gear, Microsoft hopes to improve connectivity among all types of mixed-reality devices. This week it announced plans to open its Windows Holographic OS to OEM, ODM, and hardware partners with the idea that outside vendors can build devices that will work with one another.
The decision to start by focusing on business apps comes as no surprise. CEO Satya Nadella noted in a 2015 interview that commercial use-cases for HoloLens would precede consumer use-cases.
"Microsoft HoloLens will be a revolutionary tool for businesses -- transforming how companies, designers, and creators work with three-dimensional data to bring products and information to life," the company reported last year.
Given the technology built inside HoloLens -- and the price tag attached to it -- the decision to start by targeting enterprise users seems a smart move for Microsoft.
The headset is built with an x86 chip, a Holographic Processing Unit (HPU), 64GB Flash, and 2GB RAM. It relies on sensors, cameras, and microphones to sense the surrounding environment through voice support, spatial sound, gesture input, and gaze tracking.