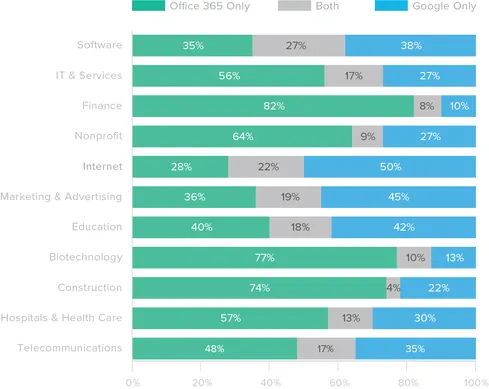 Google Apps Vs. Office 365: Which Suite Reigns Supreme?
(Click image for larger view and slideshow.)
Microsoft is looking to help project managers with the release of Planner, an addition to the Office 365 suite that lets users create new plans, organize and assign tasks, share files, chat about what they're working on, and get updates on progress.
The company introduced Planner in a June 6 blog post.
Built for Office 365, Planner lets users attach files to tasks, work together on those files, and also have conversations around tasks without switching between apps.
With Planner, all the team's discussions and deliverables stay with the plan and don't get locked away across disparate applications.
In addition, each plan has its own board where users can organize tasks into buckets and categorize tasks based on their status or on whom they're assigned to.
Over the next several weeks, Planner will roll out to all eligible Office 365 customers worldwide. This includes Office 365 Enterprise E1–E5, Business Essentials, Premium, and Education subscription plans.
All users with eligible subscription plans will automatically see the Planner tile appear in the Office 365 app launcher when it is available for them to use. No specific action by Office 365 administrators is needed.
Some of the new features Microsoft plans to introduce over the next few months include the ability to assign a task to multiple users, external user access, plan templates, customizable boards and apps for iOS, Android, and Windows.
Planner also integrates with Office 365 Groups -- a foundational service that allows individuals to create public or private groups. Each new plan created in Planner automatically creates a new Office 365 group.
The app will be in competition alongside platforms such as Trello, Slack, Basecamp, and Asana, as well as Google, which has worked to improve workflows that exist between Google Apps and other applications, which often involve copying and pasting data between apps.
In addition, Google says Conga, ProsperWorks, SalesforceIQ, and Trello are among the companies working to integrate the Slides API into their products.
[Read about Microsoft gaining in the SaaS market.]
Google is hoping its update to Slides -- the search giant's presentation and collaboration application -- will reduce PowerPoint fatigue by incorporating audience participation into the mix.
The new Q&A feature lets audience members submit questions from their smartphones, laptops, and tablets -- and then vote on those they most want answered.
Users can sort the questions based on audience votes and respond to the top ones. In an effort to make the process of presenting more streamlined, users can now present their slides to a Hangout from their iPhone or iPad.
Microsoft is also beefing up its presentation and collaboration suite with the release of Office Online Server (OOS), which allows organizations to deliver browser-based versions of Word, PowerPoint, Excel, and OneNote, among other capabilities.
The architecture enables one OOS farm to serve multiple SharePoint, Exchange, and Skype for Business instances. It's designed to work with SharePoint Server 2016, Exchange Server 2016, and Skype for Business Server 2016.
It is also backward-compatible with SharePoint Server 2013, Exchange Server 2013, and Lync Server 2013. Users can integrate other products with OOS through Microsoft's public APIs.