Microsoft kicked off its SharePoint 2014 conference on Monday with a preview of new Office 365 technologies designed to make the cloud-based productivity suite more collaborative and cohesive.
Users openly share information on Facebook, Twitter, and other popular social platforms, but at work, the experience tends not to be like that, Office GM Julia White told InformationWeek in an interview. She said Microsoft wants its new products to "cut through the noise" by focusing on a personalized experience that recognizes the user's current needs and automatically surfaces relevant content.
Microsoft's plans hinge on Office Graph, which was introduced Monday and provides an "intelligence fabric" that runs in the background, constantly analyzing content and mapping relationships. A forthcoming application codenamed Oslo will be among the products that rely on Office Graph. It will provide an individualized dashboard that displays content, people, and activities germane to the user, including notes that remind the user why certain a given piece of information is useful.
[Will Microsoft Office be a success on the iPad? Read Microsoft Office For iPad: Do It Right.]
Oslo will know a user's meetings, what was shared in those meetings, who attended, and what kind of content is trending around those collaborators, White said. She emphasized, however, that Oslo "respects privacy and settings."
White said Oslo will initially appear both as a Windows Store app and as component of Microsoft's browser-based Office Online. Additional native apps will follow. White said the apps will "render nicely" on all form factors.
Microsoft also introduced Groups, which aims to improve collaboration by unifying contacts, conversations, calendars, emails, and files across the Office 365 suite into a single workspace. White said companies aren't interested in deploying a variety of separate collaboration and productivity products, and that Groups will provide a more holistic way for individual employees to collaborate and see how surrounding activities fit together.
Users will be able to create a Group from anywhere within Office 365. The process will be intuitive and simple, according to White, with Office 365 automatically provisioning a Yammer conversation feed, calendar, document library, and inbox. She also said Groups will appear differently depending on the product in which it is launched, with card-based views for mobile and more traditional column-based organizational panels for many PC interfaces. Microsoft is conducting user testing to refine how Groups will look and operate.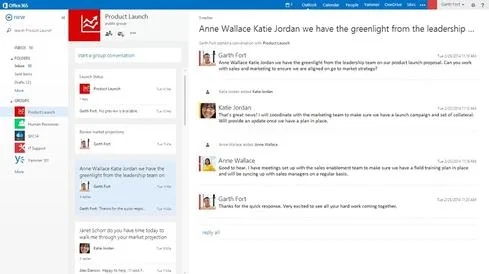 Microsoft also announced plans to integrate social conversations into documents stored in SharePoint Online and OneDrive for Business, the latter of which will be available starting in April as a new standalone SKU. The company also previewed an Office 365 video portal. The portal will securely support upload, storage, and discovery of videos, including mobile streaming. Companies will be able to organize videos into channels.
White said the new products will become available over the next year, and that Microsoft wants to be transparent about its Office roadmap. "The cloud delivery model enables us to do that," she said, noting that Office improvements used to involve multi-year engineering cycles but can now be deployed on a regular basis. White said Microsoft has introduced more than 75 new Office features in the last 12 months, an average of more than one per week. "Because we can iterate really rapidly, we can talk to people much earlier," she said.
During its SharePoint conference, Microsoft will recruit early adopters for trials, White said.
Microsoft also touted its goal to turn Office 365 into a development platform, stating that more than 3.4 million developers write for Office and SharePoint. The company debuted a new SDK for Windows and Android that allows developers to connect to Office 365 data and to build contextual experiences informed by the user's location, relationships, and projects. Microsoft also announced new capabilities aimed at IT professionals, including data-loss prevention technology that allows organizations to manage, track, and audit Office 365 content.
Engage with Oracle president Mark Hurd, NFL CIO Michelle McKenna-Doyle, General Motors CIO Randy Mott, Box founder Aaron Levie, UPMC CIO Dan Drawbaugh, GE Power CIO Jim Fowler, and other leaders of the Digital Business movement at the InformationWeek Conference and Elite 100 Awards Ceremony, to be held in conjunction with Interop in Las Vegas, March 31 to April 1, 2014. See the full agenda here.