After Microsoft predicted almost all of this year's Oscar winners, reports surfaced that it might be updating the search functionality throughout Windows 10, including Cortana. Current search capabilities include a pop-up window that covers most of the desktop screen.
In the latest Windows 10 build, the search function will reportedly be moved inside the Start menu, according to Neowin. The change, which could also be part of Cortana, would make the Start menu the functional search hub for Windows 10.
Microsoft announced a major update to Microsoft Band, the first since the device's launch, on Feb. 23. New messaging features include an onscreen predictive keyboard, which uses Wordflow, to respond to messages. In "quick read" mode, messages appear one at a time in large font, speed-reading style, reports CNET.
Active Band wearers will be happy to know that additional features include a dedicated cycling tile that records calorie burn, distance, duration, splits, and GPS tracking for cycling workouts done indoors or outdoors. Its new Health dashboard contains more charts and insights on sleep and exercise data.
[Now you can have your coffee and eat the cup.]
In other wearable news, Microsoft released a new developer preview SDK that will enable app developers to begin experimenting with the creation of new Band apps. We can expect to learn more about that SDK in the next month.
On Feb. 24, Microsoft added a new API to OneDrive that will help developers integrate their apps with the cloud-based storage system. The new API supports apps across Windows, Android, and iOS. Developers can access new changes to files and folders, resume uploads up to 10GB, and upload files from public URLs, as written by ProgrammableWeb.
Cortana got a boost on Feb. 25, when we learned that she would support fitness trackers like Microsoft Band, likely an effort to increase the company's focus on health technology, says WinBeta. The digital assistant also became a film buff and now has the capabilities to find show times and trailers for users. She will also be able to "Pick the Winners," and, while details were not announced, speculation says it will involve the Bing prediction tool.
The same day, Gigaom posted a report claiming that Microsoft may be developing Windows Phone support for the Pebble Time smartwatch, a Kickstarter record-holder that generated $1 million in 30 minutes. It looks like Microsoft is testing right now, but no doubt the tech community will be keeping its eye out.
Microsoft's Garage innovation incubator unveiled a slew of new productivity apps, the product of the work of more than 10,000 Microsoft professionals. Garage was founded in 2009 to spur innovation at Microsoft and connect employees across geographies.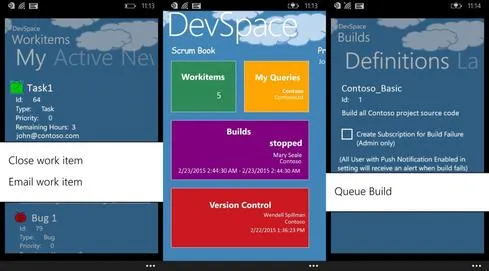 The most recent wave of apps from the Garage caters to enhanced productivity for users. Features include the ability to hop on conference calls with a single command, check projects in Video Studio Online via mobile phone, track the whereabouts and availability of family and friends, and access an Excel-optimized keyboard. All apps are free and ready to download.
Towards the end of the week, Microsoft shared its latest concept video envisioning the future of technology. Highlights include multiple uses of earpieces, massive transparent touchscreens, new use-cases of holographic technology, bendable displays, and what appears to be "smart" jewelry.
In cloud-related news, Microsoft and Docker released beta versions of two Docker orchestration tools on Azure and Hyper-V, reports ZDNet. Docker Machine is available on Hyper-V, and both Docker Machine and Docker Swarm are available in Azure.
Attend Interop Las Vegas, the leading independent technology conference and expo series designed to inspire, inform, and connect the world's IT community. In 2015, look for all new programs, networking opportunities, and classes that will help you set your organization's IT action plan. It happens April 27 to May 1. Register with Discount Code MPOIWK for $200 off Total Access & Conference Passes.</p