device's Facebook app, then Nearby Friends, then tap the gear icon. From that list, tap Location Settings, then switch the location history feature to off.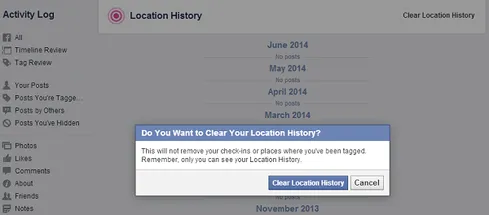 You can also delete past locations from your history. To remove places individually, navigate to your Activity Log from your desktop and click More, then Location History. Click the delete button next to the location you want to remove, then select Delete from the dropdown menu. To clear your entire location history, click Clear Location History at the top of the page.
3. Stop Facebook from tracking your browsing habits
Earlier this month, Facebook announced it will soon use app and website data from your online browsing habits to provide you with more targeted ads. This means that if you perform a Google search for a particular restaurant, you may see ads for that restaurant on Facebook.
While Facebook isn't the only company to track your browsing habits for ad targeting -- Google does it, too -- you can opt out. On your desktop, visit the Digital Advertising Alliance. This website will scan for participating companies that have enabled customized ads for your browser. You can browse your results to learn more about their advertising and privacy practices, and opt out of this advertising for all or select ones.
To opt out on your mobile device, use the controls that iOS and Android provide, Facebook advises. This includes enabling private browsing, blocking cookies, and opting in to do-not-track.
4. Opt out of appearing in search engine results
Facebook automatically allows search engines to index your profile. This means that when friends, family, and employers Google your name, for example, search results may list a link to your page.

To prevent your profile from appearing in search engine results, visit your account settings page and click the privacy tab on the left. Click Edit next to the very last option, "Do you want other search engines to link to your timeline?" and uncheck the box. It may take some time for search engines to stop showing the link to your profile in its search results.
Our InformationWeek Elite 100 issue -- our 26th ranking of technology innovators -- shines a spotlight on businesses that are succeeding because of their digital strategies. We take a close at look at the top five companies in this year's ranking and the eight winners of our Business Innovation awards, and we offer 20 great ideas that you can use in your company. We also provide a ranked list of our Elite 100 innovators. Read our InformationWeek Elite 100 issue today.