these friends' status updates, photos, game activity, comments and likes, and more.

4. Manage your notifications
If Facebook sends you too many (or too few) alerts when something happens on the social network -- such as when a friend tags you in a photo, likes your status, or adds you as a friend -- you can tweak all of these in your Notifications Settings. To find it, click the globe icon at the top of your page, then click the Notifications link.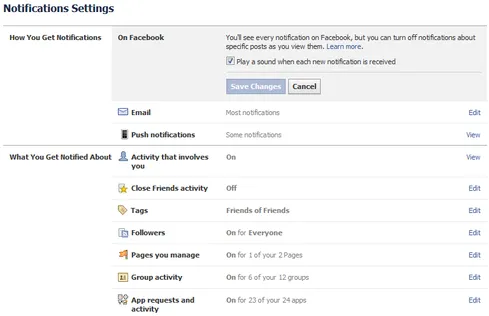 This is where you can adjust which emails Facebook sends you, which push notifications it sends to your mobile device, the alerts you receive for activities that involve you, and more.

5. Use View As to see what others see
Friend lists and privacy settings can be confusing and tedious to manage. If you're ever unsure about what parts of your profile are visible to which of your friends, use the View As feature to find out.

Navigate to your profile page and click the gear icon in your cover photo, then select View As. The view that loads is how your profile looks to the public, or people you aren't friends with. Click View as Specific Person at the top to type in a name and see how your profile looks to him or her.
You can navigate through your various profile sections -- timeline, photos, about, friends, etc. -- in this mode. Click the X at the top to leave View As and return to normal browsing. If you find something that you want to hide, visit your Activity Log to remove it or change the setting.
Interop Las Vegas, March 31 to April 4, brings together thousands of technology professionals to discover the most current and cutting-edge technology innovations and strategies to drive their organizations' success, including BYOD security, the latest cloud and virtualization technologies, SDN, the Internet of things, and more. Find out more about Interop and register now.