the feature has skyrocketed, with users giving out more than 2 billion of them in the last two years.
Given the ease with which your connections can endorse you, the email notifications LinkedIn sends can quickly become overwhelming. By default, you'll automatically receive an email from LinkedIn when you've been endorsed. Here's how to change that.
Click Profile, then select Edit Profile at the top of LinkedIn, then scroll to the Skills section and click Edit. Uncheck the box next to "Send me notifications via email when my connections endorse me," which you'll find under "Skills and Endorsements Settings." Then click save.
Alternatively, you can visit your Privacy & Settings page, click the Communications tab at the bottom, then select "Set the frequency of emails." You'll find the Endorsements option below the Notifications header.
4. Manage LinkedIn Pulse emails
LinkedIn integrated social newsreader app Pulse into mobile and desktop versions of the site about a year ago. Today, it has its own mobile app as well. How often LinkedIn emails you a digest with top Pulse stories depends on your settings.

To change the frequency of LinkedIn Pulse emails, visit your Privacy & Settings page, then click the Communications tab at the bottom. Select "Set the frequency of emails," then click the "Updates and news" subhead. Beside LinkedIn Pulse, you'll find options to receive daily or weekly digest emails, an email only when influencers you follow post, or no email at all.
5. Add yourself to LinkedIn's Do Not Contact list
If you are not a LinkedIn member yet receive emails inviting you to join, you can add yourself to LinkedIn's "Do Not Contact" list, which will opt you out from these emails indefinitely.
LinkedIn sends these emails on behalf of people you may know who have uploaded their contacts to LinkedIn. In June, the social network faced a lawsuit that alleged it violated users' privacy by accessing their external email accounts and downloading their contacts' addresses.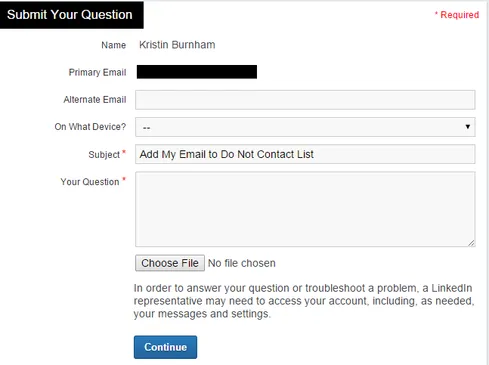 To add your email address to the Do Not Contact list, contact customer support and type "Add my email to Do Not Contact List" in the subject line. Doing so will block your email address in the system and close any existing LinkedIn account with this email address. If you choose to sign up for a LinkedIn account at a later time, you will need to ask customer support to reactivate it.
Employers see a talent shortage. Job hunters see a broken hiring process. In the rush to complete projects, the industry risks rushing to an IT talent failure. Get the Talent Shortage Debate issue of InformationWeek today.