Amazon announced its latest e-commerce collaboration with Twitter this week, a feature that lets you quickly add items to an Amazon wish list by replying to a tweet with the hashtag #AmazonWishList. This is the second time the companies have teamed up to capitalize on the growing social shopping trend.
The #AmazonWishList hashtag only works with tweets from artists, experts, brands, or friends that include an Amazon.com product link, the company said.
When you reply to a tweet with the hashtag, Amazon will place the item on a new wish list called "#AmazonWishList," from which you can make purchases later. If you add Amazon Instant Video or Prime Instant Video titles, those will appear on your Watchlist.
Much like its last hashtag integration with the social network, your Twitter account must be public and connected to Amazon for it to work. To do this, visit your Amazon.com Social Settings page and click the Connect button. Twitter will ask you to authorize the Amazon app, which you can revoke at any time.
Before you jump in, there are privacy implications to consider. Because your Twitter account must be public for this feature to work, anyone who visits your timeline, follows the #AmazonWishList hashtag, or follows the account to which you replied could see your potential purchases. Your Amazon wish lists, however, can be made private; visit your Wish List homepage to update your settings.
[Popular social apps may track your every move. Read Location Tracking: 6 Social App Settings To Check.]
Amazon first partnered with Twitter earlier this year to launch #AmazonCart, a hashtag that places items directly into your Amazon shopping cart to purchase when you're ready. Its new focus on wish lists is a lower-pressure alternative, which could generate more interest.
According to analytics from Simply Measured, #AmazonCart was tweeted more than 157,000 times in the first two weeks following its launch, though activity and interest plummeted at the end. Given the timing of the #AmazonWishList launch -- just months before the holiday shopping season -- it's possible that this one may have a better chance of sticking.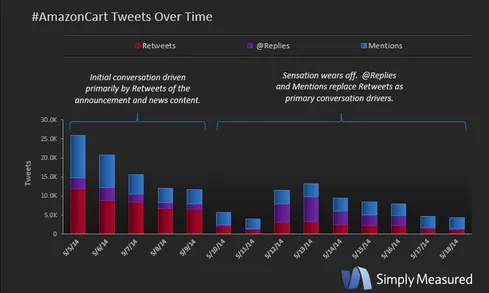 Social shopping is still in its infancy as businesses and social networks have just begun testing the waters. In July, Facebook announced that ads from a handful of small and midsize businesses will feature a "Buy" button that lets you purchase a product directly from a business without leaving Facebook.
That same month, Twitter announced the acquisition of CardSpring, a payments infrastructure company that lets merchants create credit-card-linked promotions such as digital coupons, virtual rewards, and loyalty programs, then connect these promotions with purchases at their store.
Most recently, Twitter confirmed the launch of its own "Buy" button, which it is testing with a small percentage of US users and 29 artists, brands, and nonprofit organizations, including Brad Paisley, Home Depot, Burberry, and GLAAD.
To purchase a product or make a donation, Android and iOS users need to tap the Buy button, enter in shipping and payment information, then confirm the purchase.
"Users will get access to offers and merchandise they can't get anywhere else and can act on them right in the Twitter apps for Android and iOS," Twitter said at the time. "Sellers will gain a new way to turn the direct relationship they build with their followers into sales."
In its ninth year, Interop New York (Sept. 29 to Oct. 3) is the premier event for the Northeast IT market. Strongly represented vertical industries include financial services, government, and education. Join more than 5,000 attendees to learn about IT leadership, cloud, collaboration, infrastructure, mobility, risk management and security, and SDN, as well as explore 125 exhibitors' offerings. Register with Discount Code MPIWK to save $200 off Total Access & Conference Passes.