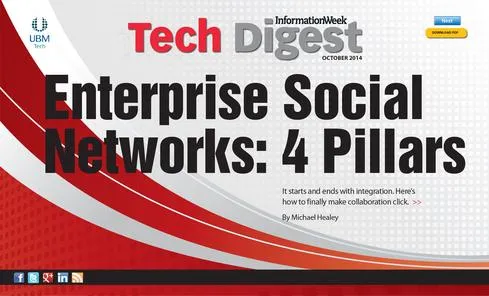 Download the entire new issue of InformationWeek Tech Digest
, distributed in an all-digital format (free registration required).
Twenty-three years ago, I saw a glimpse of the future. Chase Manhattan Bank's London office had launched an ambitious plan to improve collaboration among its senior loan teams. IT was rolling out a system that essentially removed paper from workflows and allowed direct collaboration with the New York office. This setup had it all -- employee directory, open wiki, robust search, integrated email and calendars, and a killer workflow. It was the very definition of an enterprise social platform, before that term was widely used. I was hooked. I thought surely it would be a home run and make 1991 "the year of enterprise social."
The product was Lotus Notes 2.0. I'm still waiting.
Enterprise social networking is the Chicago Cubs of technology -- always an also-ran and a perennial disappointment for its fans. Not that I'm bitter.
So what happened? Lotus was far ahead of the pack back in 1991, but WordPerfect/Novell, message boards, and mainframe and midrange collaboration systems were all in the hunt. They were Web 1.0 before there was a Web. Email didn't extend beyond the enterprise back then, and the first HTTP website went live that year, in December. And social? Mark Zuckerberg was 7.
The short answer is that the Web killed the original enterprise social vision, as I'll explain. Nevertheless, most IT organizations still are stuck trying to implement that old, tired dream, like a die-hard Cubbies fan insisting that this will be the year.
Enterprise social has sputtered because it has been overshadowed the last decade by three much more dominant communication options: websites, public social networking, and email. These three remain indispensable channels for how we interact globally, so any enterprise social initiative -- if it hopes to succeed -- must seamlessly integrate with the Web, your email system, and outside social networks. We're not talking about simply forwarding email notices. We mean tight, clean, two-way integration among these four pillars of collaboration, replete with single sign-on, integrated document exchanges, a unified directory, and true unified communications.
The basic goal of enterprise social is almost universally agreed on and dead simple: to help employees work more efficiently. The means to do so is enabling more collaboration and easier access to relevant data and people.
This improved efficiency is an impossible dream unless you fully integrate your social platform with the three most prevalent digital collaboration methods. That level of integration will challenge your development, data, and security teams while forcing much-needed discussions around responsibility for data. If you want enterprise social to succeed, there's no shortcut around the hard discussions and the hard work. Here are specific steps to integrate with the big three: websites, email, and social networks.
Website integration
Website integration is the elephant in the enterprise social networking room. Why do companies keep content management systems (CMS) and Web systems for customer-facing collaboration completely separate from their internal tools?
Our InformationWeek 2014 Digital Business Survey shows that 67% of organizations with 1,000 or more employees and a digital strategy have six or more public-facing websites, with a whopping 25% having more than 50. Whether business-to-business or business-to-consumer, and regardless of industry, e-commerce is one of the few consistent revenue drivers, and that growth has come from Web-centric systems.
Given the strategic business value of these e-commerce and other customer-facing website systems, wouldn't you assume they would be systematically designed to integrate with in-house enterprise social networks? Guess again. In almost every instance, "internal" and "external" systems are siloed. They have different logins, discrete conversation and support streams, and duplicative content. Worse still, the public-facing system has likely received ample funding over the past few years, while the internal platform has been starved.
Blame marketing. While it's technically not its fault, it's a symptom of the "compartmentalized view" of technology implementation that has existed for years. Web presence? That's the same as catalogues, billboards, and ads, so it belongs to marketing. Internal collaboration and productivity? Line-of-business execs and HR decide on that. Flow between the systems simply wasn't a big part of the discussions.
Look at the difference in the platforms in use. IBM, Oracle, and Microsoft all sell options for Web and internal systems. These internal systems are not exclusively designed for internal use, since they can integrate with public sites. Take SharePoint, for example. It has always had a large share of internal social initiatives, but its public website use is just 1.1%, as revealed by a Datanyze analysis of the CMS used for the top 30,000 websites as ranked by Alexa.
Read the rest of the story in the new issue of
InformationWeek Tech Digest (free registration required).