Facebook plans to acquire Titan Aerospace, a solar-powered atmospheric drone manufacturer, for $60 million, according to a TechCrunch report. Titan, founded in 2012, develops drones that carry a 250-pound payload and fly at 65,000 feet for up to five years at a time. Titan Aerospace targets a number of industries, including agriculture, space, meteorology, and disaster response.
Facebook's interest in Titan Aerospace stems from its Internet.org initiative, which aims to bring Internet access to the entire world. The plan, announced in August, focuses on a three-pronged approach: Develop a way to deliver data more efficiently and more affordably; use less data to improve the efficiency of apps; and help businesses drive Internet access by developing a new model to get people online.
Acquiring Titan Aerospace would support two of those goals by using the drones to blanket parts of the world with Internet access. Facebook plans to start with Africa and build 11,000 Solara 60 drones, according to the report, which cited anonymous sources.
According to Titan Aerospace, this drone model is powered by the sun and can launch at night using its internal battery banks. These unmanned aerial vehicles (UAVs) are powerful but not inconspicuous: They boast a 164-foot wingspan, weigh more than 350 pounds, carry more than 250 pounds to atmospheric orbit, and reach speeds of up to 64 miles per hour at altitudes of 65,000 feet. The UAVs are also low maintenance: They can stay aloft for up to five years at a time without having to refuel.
Post-acquisition, Titan Aerospace would manufacturer solely for the Internet.org project, according to the report.
[Good idea, or one more for the list of Famous Facebook Flops?]
Facebook's Internet.org initiative rivals Google's Project Loon, which focuses on using balloons to bring Internet access to everyone.
Project Loon's balloons float in the stratosphere and use the varying layers of wind to blow the balloons where they're needed, its website explains. "People can connect to the balloon network using a special Internet antenna attached to their building. The signal bounces from this antenna up to the balloon network, and then down to the global Internet on Earth."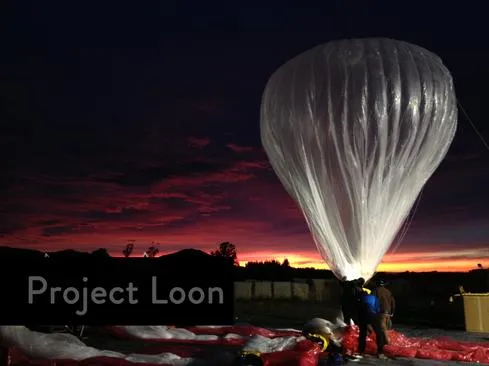 Compared to Titan Aerospace's drones, Google's balloons aim to stay afloat for 100 days, which is "long enough to get a good life out of it but not so long that we have outmoded technology in the air," said Google's Pam Desrochers, balloon manufacturing manager for Project Loon. Like the Solara 60 drone, the surface area of Google's balloons is large, at 500 square meters.
Google's biggest obstacle is developing a material that can withstand constant expansion and retraction, and prevent rips or tears that could deflate it, Desrochers said. Watch the videos below for more on Project Loon's balloons and Titan Aerospace's Solara drones.
Engage with Oracle president Mark Hurd, NFL CIO Michelle McKenna-Doyle, General Motors CIO Randy Mott, Box founder Aaron Levie, UPMC CIO Dan Drawbaugh, GE Power CIO Jim Fowler, and other leaders of the Digital Business movement at the InformationWeek Conference and Elite 100 Awards Ceremony, to be held in conjunction with Interop in Las Vegas, March 31 to April 1, 2014. See the full agenda here.