whether you see more or less of them in your News Feed.
In addition to other factors that determined whether or not you'd see a video in your News Feed, Facebook will consider whether people watched it and for how long to determine whether or not it appears in your feed, the social network said.
If you tend to watch videos in your News Feed, you can expect to see more videos near the top, Facebook said. Conversely, if you skip over videos without watching them, Facebook will show you fewer videos.
"This improvement means that videos that people choose to watch will reach a larger audience, while videos that people ignore will be shown to fewer people," Facebook said.
4. You may see fewer posts from Pages
Because competition for space in your News Feed has become so fierce, the social network has tweaked its algorithm to show you only the most-relevant posts from Pages you follow. As a result, businesses have complained about a sharp decline in the number of people they reach.
In a blog post this month, Facebook product marketing lead Brian Bloan explained the reasons behind the changes and how marketers should adjust their approach to Facebook to succeed.
"Of the 1,500+ stories a person might see whenever they log onto Facebook, News Feed displays approximately 300. To choose which stories to show, News Feed ranks each possible story from more to less important by looking at thousands of factors relative to each person," he said.
While the posts you see from Pages you have Liked may drop, businesses will be working harder than ever to create valuable content that's both timely and interesting, among other factors.
5. Expect fewer auto-shared posts from apps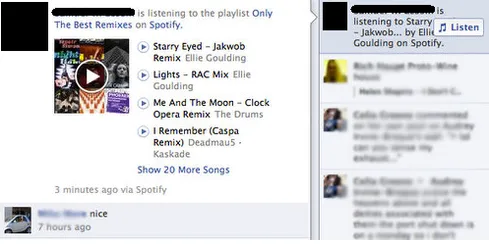 If you don't care about which photos your Friends liked on Instagram, the songs they listened to on Spotify, or the DIY projects they pinned on Pinterest, you're in luck: Facebook has toned down automatically shared posts from applications.
"Over the past year, the number of implicitly shared stories in News Feed has naturally declined. This decline is correlated with how often people mark app posts as spam, which dropped by 75% over the same period," Facebook's Peter Yang wrote in a blog post.
Instead, Facebook says, it has prioritized posts that you deliberately share, such as articles from news sites, photos from Instagram, and songs from Spotify.
Our InformationWeek Elite 100 issue -- our 26th ranking of technology innovators -- shines a spotlight on businesses that are succeeding because of their digital strategies. We take a close at look at the top five companies in this year's ranking and the eight winners of our Business Innovation awards, and we offer 20 great ideas that you can use in your company. We also provide a ranked list of our Elite 100 innovators. Read our InformationWeek Elite 100 issue today.