Facebook announced a new type of ad this week to help businesses more effectively promote events. Event ads were traditionally displayed in the right-hand column of Facebook's desktop version, but the new ad unit will promote events within users' news feeds, the company said.
Facebook's events feature is used by more than 400 million people across the world, according to the social network. Nearly 30% of these events are created by Pages. This new ad unit, plus event insights, will give businesses more details about how effectively they're reaching their audience, Facebook said.
Event ads both on desktop and mobile will display a Sponsored tag below the event name to distinguish it from unpaid events. Like other events, the ad will also show the event details, and include buttons to like the Page and event, comment on it, and share it.
[Popular social apps may track your every move. Read Location Tracking: 6 Social App Settings To Check.]
Page owners have two ways to create event ads: either by using the Ad Create tool, or the Power Editor. You can expect to see these new ads in the coming weeks, Facebook said.
Facebook will also launch an event insights dashboard, which Page admins can view in the right-hand column of an event page. You'll see stats on the number of people who have seen a link to the event on Facebook, the number of people who have viewed it, and the number of joins, saves, and maybes that the event has received.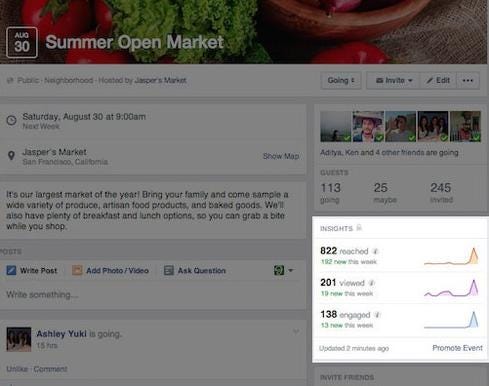 In addition to the changes for Pages and advertisers, events got a facelift on the user end, too. Aside from a cleaner look that displays the events you were invited to, saved, and are hosting, you'll see suggested events based on information such as the Pages you like, your location, and the day of the week.
Facebook hints that these changes to events are the first of more to come, but did not disclose what users might see in the future.
Moving event ads from the right-hand column to users' news feeds frees up more-expensive ad real estate. In June, Facebook announced a redesigned ad format on the right-hand side that advertisers could expect to pay more for, since Facebook planned to serve fewer ads in this location.
"The redesign of right-hand column ads is part of an ongoing initiative to improve our ads in general," Facebook said at the time. "These results suggest that we're on the right path: People are finding the new right-hand column ads more engaging and advertisers, therefore, are getting more value for their ad impressions."
Facebook recently made improvements to ads on the user end, too. Earlier this year, Facebook launched a new feature that details why you see certain ads and lets you adjust topics of interest.
In its ninth year, Interop New York (Sept. 29 to Oct. 3) is the premier event for the Northeast IT market. Strongly represented vertical industries include financial services, government, and education. Join more than 5,000 attendees to learn about IT leadership, cloud, collaboration, infrastructure, mobility, risk management and security, and SDN, as well as explore 125 exhibitors' offerings. Register with Discount Code MPIWK to save $200 off Total Access & Conference Passes.