Video on Facebook is booming: The social network announced this week that views between May and July grew by 50%, and that video views has averaged 1 billion every day since June -- with more than 65% of them on mobile.
Video's rapid rise has prompted Facebook to ramp up its focus on the medium, with the social network most recently announcing a play counter that displays how many times a video has been watched, in addition to other changes that affect how often you see videos in your news feed. It also announced new tools and metrics for businesses.
"The goal of news feed is to deliver the right stories to the right people at the right time, from the people and things you care about," Fidji Simo, product manager of video at Facebook, said in a press release. "More people than ever before are seeing, sharing, and expressing themselves with video on Facebook."
[Popular social apps may track your every move. Read Location Tracking: 6 Social App Settings To Check.]
Starting this week, videos that people and Pages post publicly will include a view counter that's visible to everyone and similar to what you see on YouTube. Views will only appear on videos posted after Sept. 8, Facebook said. This feature is rolling out gradually.
"We believe this will help people discover popular videos, and help businesses quickly gather information about how their videos are performing," Simo said.
In addition to the view counter, Facebook Page admins now have access to a new video metric dashboard. These metrics detail video views, unique video views, the average duration of the video view, and audience retention.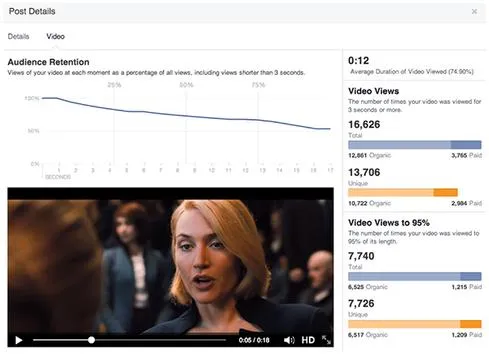 "These new metrics are designed to help you learn what's resonating with people and determine how to more effectively create and promote your videos on Facebook," the company said.
Finally, Facebook announced that it's testing a Related Videos slider and a call-to-action tool for publishers. The Related Videos box will appear on mobile versions of Facebook and show you additional content once you've finished watching something. The call-to-action feature lets users invite people to visit a website or make a purchase after the video ends.
These features join video updates from earlier this year, including auto-playing videos and a new video ranking in users' news feeds.
Auto-playing videos and video ads began rolling out in December. The new format automatically plays silently on both desktop and mobile versions if you pause on them while browsing your news feed, and they will play in full-screen mode with sound if you click or tap the video. You can limit auto-playing videos in your settings.
In June, Facebook announced that twice as many people watch videos on Facebook as they did six months prior, and it made a few changes to your news feed that affect how many videos you see.
For example, if you tend to watch videos in your news feed, you can expect to see more videos near the top, Facebook said. Conversely, if you skip over videos without watching them, Facebook will show you fewer videos.
"This improvement means that videos that people choose to watch will reach a larger audience, while videos that people ignore will be shown to fewer people," Facebook said.
In its ninth year, Interop New York (Sept. 29 to Oct. 3) is the premier event for the Northeast IT market. Strongly represented vertical industries include financial services, government, and education. Join more than 5,000 attendees to learn about IT leadership, cloud, collaboration, infrastructure, mobility, risk management and security, and SDN, as well as explore 125 exhibitors' offerings. Register with Discount Code MPIWK to save $200 off Total Access & Conference Passes.