At 10 years old, Facebook has grown up. It's adapted as browsing habits and social networking trends have changed, proving to naysayers that the company has staying power. Today, it's the social network of choice, used by 57% of all adults and 73% of teens, 64% of whom visit the site daily, according to the Pew Research Center.
But that doesn't mean everyone loves it. To commemorate Facebook's 10th birthday, the Pew Research Center released new survey findings, including details about users' habits today and what they like and dislike about the world's dominant social networking platform.
No. 1 on users' list of gripes should come as no surprise: oversharing. According to the report, 36% of users said they "strongly dislike" people sharing too much information about themselves, including excessive status updates and photo uploads.
[Facebook has suffered some strikeouts during its 10 years. Read more: 10 Famous Facebook Flops.]
Photo concerns resonated particularly with parents, the report said. "Parents are especially protective of images of their children, as 57% of Facebook users with children under the age of 18 say that people posting pictures of their children without asking permission first is something they strongly dislike about using Facebook."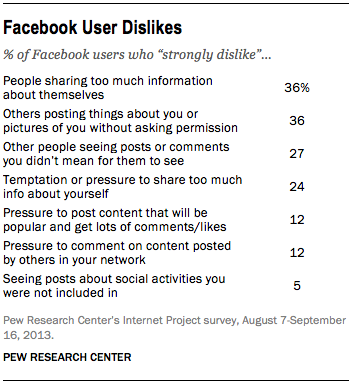 Other dislikes highlight users' complicated relationship with Facebook's privacy settings. Of the 1,801 adults surveyed, 27% report worrying that friends may see posts or comments that weren't intended for them, and 24% said they feel pressure to share too much about themselves.
But despite omnipresent complaints and recent reports about its user base, Facebook users are not abandoning the site in droves. In fact, what keeps users returning are viewing friends' photos and videos (47%), sharing content with many people at once (46%), and browsing entertaining or funny posts (39%), the survey said.
"Other aspects of Facebook -- such as keeping up with news or receiving support from the people in one's network -- appeal to a more modest audience of users," the report said. "Men and women sometimes vary in their reasons for using the site."
While users visit Facebook to consume different types of content -- updates, photos, and news -- few share content themselves, the survey found. Only 10% of users change or update their own Facebook status on a daily basis, with 4% updating their status several times per day. One quarter of Facebook users reported they never change or update their own Facebook status.
Instead, the most popular actions include "liking" content, which 44% of users say they do at least once a day, and commenting on their friends' photos, which 31% of users report doing daily.
Too many companies treat digital and mobile strategies as pet projects. Here are four ideas to shake up your company. Also in the Disruption issue of InformationWeek: Six enduring truths about selecting enterprise software (free registration required).