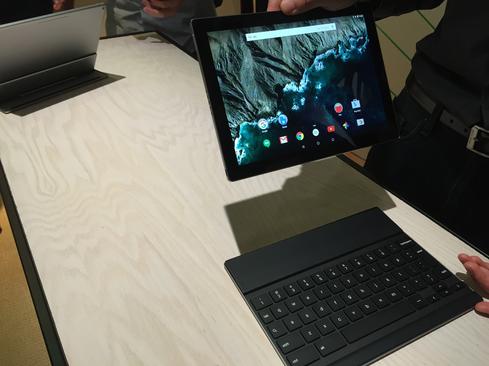 Google's Android Event: Pixel Tablet, Served With Marshmallow
(Click image for larger view and slideshow.)
Google may be ubiquitous presence on most parts of the Web, and its forays into smartphone software and even self-driving cars have so far been a resounding success. However, when it comes to social media, Google comes up short.
The company's social media platform, Google Plus, or Google+, has struggled to find a captive audience that appears to prefer Facebook -- which boasts a user base of more than a billion people worldwide -- Twitter, or Instagram.
Though Google claims robust growth of the platform, it has never really engaged users. An April report by Stone Temple Consulting found that 90% of the people who create a Google profile have never posted publicly on Google+.
To try and increase interest and user-friendliness, Google launched a total revamp of the site this week that puts the Communities and Collections features front and center. It has been rebuilt across Web, Android, and iOS platforms to be more mobile friendly and provide a more consistent experience regardless of device.
Communities is a way for users to connect with other people around the things they're passionate about. (Google boasts Communities is getting 1.2 million new joins per day.) Collections, which launched five months ago, allows users to group their posts by topic.
Currently available for Android and Web users, each collection can be shared publicly, privately, or with a custom set of people.
Once the user creates the first collection, the profile will display a new tab where other people can find and follow the collections.
Posts in collections the user follows will appear in the user's Home stream, with a link to jump into the collection to get similar content from that author.
"Today, we're starting to introduce a fully redesigned Google+ that puts Communities and Collections front and center," Eddie Kessler, director of streams for Google, wrote in a Nov. 17 blog post. "Now focused around interests, the new Google+ is much simpler. And it's more mobile-friendly -- we've rebuilt it across web, Android and iOS so that you'll have a fast and consistent experience whether you are on a big screen or small one."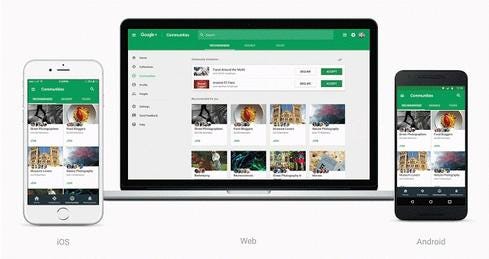 Whether or not Google's revamp will boost its fortunes we will see, but it is launching the update at a potentially opportune moment. In the third quarter of 2015, Facebook's marketshare of social logins declined for the first time since the third quarter of 2013, according to a November report from Gigya.
[Read about Facebook and its problems with Safety Check.]
Google+, on the other hand, gained a 2% share of social logins, bringing its total to 22%. The report also noted Google's social network continues to be the only identity provider (IdP) besides Facebook to maintain a marketshare greater than 10%.
Yahoo's share of the social authentication market remained below 5% for the second consecutive quarter, and Yahoo's presence as an IdP on mobile applications and e-commerce sites has completely disappeared, according to Gigya.
**New deadline of Dec. 18, 2015** Be a part of the prestigious InformationWeek Elite 100! Time is running out to submit your company's application by Dec. 18, 2015. Go to our 2016 registration page: InformationWeek's Elite 100 list for 2016.