Next time you see someone at a conference and can't quite match a name with the face, Humin, a new iPhone app, can help.
Humin syncs your contacts with other information from a variety of sources, such your email, Facebook and LinkedIn accounts, and calendars. If you're blanking on a person's name but remember other details, such as where the person works or where you met, you can type in "works at Google" or "met at Interop last year," and the app will surface people you know who match that criteria.
"Contacts are the core of your social experience on mobile, and yet it's the one thing that hasn't changed since the earliest flip phones," the company said in an announcement. "All of your contacts are still stored in one giant alphabetical list. With Humin, your phone app will remember the context of your relationships and let you search them the way you think."
Humin, which has been in private beta for the last few months, is available now in the App Store. The initial setup of the app is easy, though it does require a number of permissions -- including access to your iPhone's contacts, calendar, and Facebook account -- which could deter some users. Adding your personal and work email accounts, as well as your LinkedIn account, are optional but encouraged in order to reap all the app's benefits.
Humin's search feature, which you can find within the Contacts tab, is similar to Facebook's Graph Search. To find contacts, type their first or last name -- or both, if you know who you're looking for; the name of the company where they work; their title; where they live; or more obscure details, such as where you met them.
[Ready for a little more activity in your Twitter feed? Read Twitter Video Ads Coming Soon.]
Their contact card pulls in a variety of information from your contacts' social profiles, such as where they live and work, education details, mobile and work phone numbers, and various email addresses. You can also call, text, or email them from their contact page.
Searching for contacts based on concrete information -- such as where they work or where they live -- instantly surfaced accurate results. Searching by how we met, however, didn't work as well. Humin says this search method improves the more you use it. For example, anytime you add a contact, Humin will tag it with your location and show you Facebook friends or LinkedIn connections you have in common to help you "get past the small talk and into a meaningful discussion."
While Humin helps add context to your contacts, it also makes it easy to connect directly with them. A Favorites list, for example, displays people in a grid with their Facebook profile picture. Tap and hold the contact's picture, then swipe right to text or left to call the contact.
Humin has a slew of other features, too. Within the Contacts tab, you can turn on its Travel feature, which alerts you when friends are in the same city. You'll also see a list of people who live or work in the city you're currently in -- information it pulls in from your contacts' Facebook and LinkedIn profiles, for example.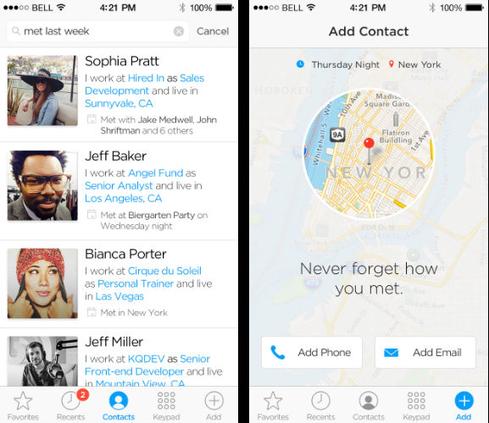 Though Humin requests a number of permissions from your various accounts, the company wants you to feel confident that your information will be safe and secure. Email messages and texts "never touch our servers," it says, and it promises never to share or sell personal information about you or your contacts, such as emails and phone numbers. All passwords and authorization tokens are processed locally on your own device, and any information the app does collect is anonymized and encrypted.
Humin will be available to Android users in the next few weeks, the company said. Will you give Humin a try? Share your thoughts in a comment below.
In its ninth year, Interop New York (Sept. 29 to Oct. 3) is the premier event for the Northeast IT market. Strongly represented vertical industries include financial services, government, and education. Join more than 5,000 attendees to learn about IT leadership, cloud, collaboration, infrastructure, mobility, risk management and security, and SDN, as well as explore 125 exhibitors' offerings. Register with Discount Code MPIWK to save $200 off Total Access & Conference Passes.