Bronfman said. "Your connections can only endorse you for the skills that you've added. Your network can suggest additional skills to add and be endorsed on your profile, but not without your approval."
3. Delete Endorsement categories
LinkedIn's Endorsements are popular: According to the social network, users have given more than 2 billion recommendations since the feature launched nearly two years ago. And it's no wonder -- you can endorse anyone in your network with just a click of a button.
Because Endorsements are so easy to dole out, you want to make sure the most important ones stand out in your profile.
"Skills, and the third-party validation that supports them, could be the difference between you and your next professional opportunity, whether it's being considered for a new position, a promotion, or a speaking engagement," Bronfman said.
To remove an entire endorsement category from your Endorsements page, navigate to the main menu and select Edit Profile under the Profile heading. Scroll to the Skills section and click Edit, and make sure you're in the Add & Remove view. LinkedIn will list your skills based on the number of endorsements they have. To delete a category, click the X next to it. This will remove it and the recommendations from your profile.
4. Hide Endorsement categories
If you don't want to delete a skill and the associated endorsements from your profile, but you don't want them to be visible, either, you can hide them instead.
To hide individual skills from your profile, click the Manage Endorsements tab and uncheck the box next to a skill that says "Show/hide all endorsements." You can revisit this section anytime to unhide a skill.
5. Remove Endorsements from individuals
If you've received an endorsement from a connection who you don't think is qualified to vouch for that particular skill, you can remove that connection's endorsement.
"A project management endorsement from an existing colleague is more valuable to a recruiter than a similar endorsement from a high school friend might be," Bronfman said. "It is therefore in your best interest to add the most appropriate skills to your profile and select the most relevant and credible endorsements to show."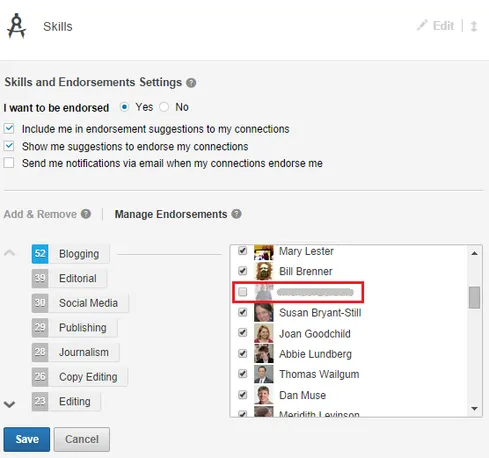 To do this, click the Manage Endorsements tab to switch views. Click a skill, and then uncheck the box next to the contact that you want to remove from endorsing it. When you're done, click Save.
In its ninth year, Interop New York (Sept. 29 to Oct. 3) is the premier event for the Northeast IT market. Strongly represented vertical industries include financial services, government, and education. Join more than 5,000 attendees to learn about IT leadership, cloud, collaboration, infrastructure, mobility, risk management and security, and SDN, as well as explore 125 exhibitors' offerings. Register with Discount Code MPIWK to save $200 off Total Access & Conference Passes.