navigate to your Activity Log from your desktop and click More, then Location History. Click the delete button next to the location you want to remove, then select Delete from the dropdown menu. To clear your entire location history, click Clear Location History at the top of the page.
Facebook Messenger
Earlier this month, Facebook made the switch to Messenger official: If you wanted to continue messaging friends on Facebook from your mobile device, you'd need to download its standalone messaging app, Messenger.
When you use Messenger to chat with friends, Facebook -- surprise, surprise -- tracks your location, too. If you're an Android user, the app tags your location in messages by default, but requests permission from iOS users to turn on location services. Your friends can see your location in two places: below your message and on a map, which friends can access by tapping your chat bubble.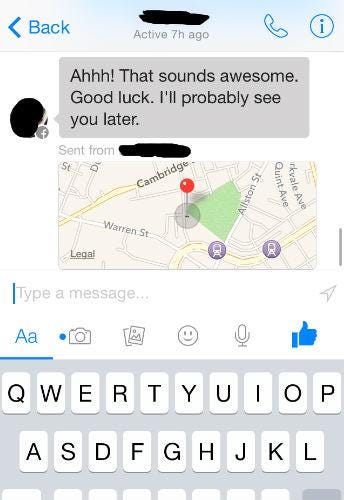 To turn off this feature, tap the arrow button or the small circle next to your text box, which turns it from blue (on) to gray (off). You can also turn off your location setting for Messenger in the settings section of your device.
Twitter
Unlike Google, Foursquare, Swarm, and Facebook, Twitter's geolocation feature is opt-in. If you enabled location services either through your Web settings or your mobile device, Twitter will attach a latitude and longitude to your Tweet if you're using the mobile version, or a place -- such as a city or neighborhood -- to a tweet if you're using Twitter.com from a desktop. This location information is visible to anyone who can see your tweet and is displayed under its text.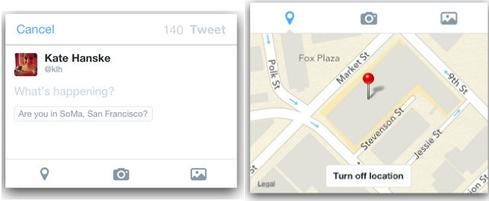 To disable Twitter's geolocation feature, visit your Security and privacy settings page, then uncheck the box next to "Add a location to my Tweets." Twitter will prompt you to enter your password, then click Save to confirm the change.
If you had location services turned on and want to delete your location data, visit your Security and privacy settings page, then click "Delete all location information." Twitter says this could take up to 30 minutes to remove.
In its ninth year, Interop New York (Sept. 29 to Oct. 3) is the premier event for the Northeast IT market. Strongly represented vertical industries include financial services, government, and education. Join more than 5,000 attendees to learn about IT leadership, cloud, collaboration, infrastructure, mobility, risk management and security, and SDN, as well as explore 125 exhibitors' offerings. Register with Discount Code MPIWK to save $200 off Total Access & Conference Passes.