Microsoft's Skype joined the hot mobile messaging market Tuesday with the launch of a simple and straightforward video messaging app called Skype Qik. The app is available for Android, iOS, and Windows Phone and doesn't require a Skype account to use.
Skype Qik was born out of the mobile video streaming website Qik, which Skype acquired in 2011 for $150 million and shuttered in April. The stripped-down and reimagined service combines a hodgepodge of characteristics from other popular mobile messaging apps, but focuses entirely on video communications.
Like WhatsApp, Qik doesn't require registration details other than a phone number, which is verified through SMS. Video messages are short, like Vine and Instagram's, though capped a bit longer at 42 seconds -- a nod to The Hitchhiker's Guide to the Galaxy.
There's also an ephemeral nature to Qik messages, similar to Snapchat: Messages are deleted from threads after two weeks, and users can erase them from a conversation thread at any point before then. The company points out, however, that it may be possible for recipients to capture and save videos elsewhere before they're deleted from Qik.
Getting started with Qik is simple: Download the free app and verify your phone number. The app will request permission to access your contacts -- though it doesn't store this information, it says -- and your microphone to record sound.
Qik lets you send video messages to individuals or a group of people as long as their numbers are in your contacts. If your recipients haven't installed the app, Qik will send them a text message with a link to download it. Your message will be available to them once their installation is complete.
If you don't want to receive messages from someone, you can block them on Android and Windows Phone. This feature is coming to iOS in the coming months, the company said.
There's also a feature called Qik Flik, which produces five-second videos you can pre-record and access to send when you don't have time or it isn't practical to record a video of your own. This feature is available on Android and iPhone, coming to Windows Phone in the next few months, the company said.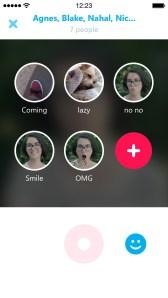 Skype Qik is entering a packed mobile messaging market, but its sole focus on video differentiates it from others. For now, all communications are strictly video-based -- there is no text messaging -- which probably won't appeal to everyone.
The move is also important for Microsoft, which has traditionally focused on personal computers and desktop applications, and for Skype, which hasn't yet capitalized on the instant nature of communications since Skype calls, the company admits, are planned out.
"We know you love your weekly Skype call with family or friends; Qik keeps you connected in between," the company said in a statement. "Dinner with friends? Bored at work? Having a great day in the park? Go on, share it right from your phone. You'd be surprised how quickly a short video can turn into a great conversation."
Skype Qik is available in the Google Play Store, Apple App Store, and Windows Phone Store.
Just when conventional wisdom had converged around the cloud being a software story, there are signs that the server market is poised for an upset, too. Get the 2014 State of Server Technology report today (free registration required).