Businesses spent significantly more money on Facebook ads than Twitter ads last year, even though Twitter ads produced better results, according to a new report.
Resolution Media, a social and search advertising agency, analyzed the social media activity of 20 of its clients with ad spends that totaled $37 million last year. The agency found that, while businesses invested 127% more in Facebook, Twitter ads generated a significantly higher click-through rate.
This isn't the first time a report has called into question the value of Facebook's advertising. Last year, Forrester published a scathing report that advised businesses to ditch Facebook advertising in favor of other marketing opportunities. Facebook, it said, creates less business value than any other digital marketing resource.
[Businesses remain uncertain about Twitter's true value. Read Twitter's Enduring Struggle: ROI.]
While Facebook ads didn't perform as well as Twitter ads, the report attributed the social network's higher spend levels to a few factors. Impressions and clicks cost less on Facebook than Twitter, which encourages marketers and advertisers to spend more, it said. Also, advertisers were quick to increase investments in successful Facebook ad campaigns and embrace new alpha and beta advertising opportunities, which outpaced Twitter's new offerings in 2013.
"Facebook's relative maturity as a direct response channel, combined with these new ad offerings, explains much of the strategic thinking that drove advertisers to spend more with Facebook," according to the report. "Add to that the sheer reach and supply of advertising inventory offered by Facebook, and it's easy to understand what led advertisers to spend more than twice their Twitter budgets with Facebook." Facebook has more than 1.2 billion monthly active users, versus Twitter's 241 million.
While Facebook spending may wildly outpace Twitter's, advertisers ramped up spending on Twitter at a higher pace than on Facebook. From Q3 to Q4, businesses increased spending on Twitter by 71% compared to just 27% on Facebook.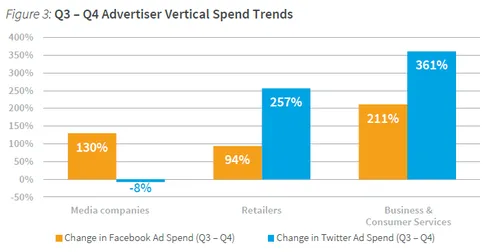 The difference between spending on Twitter and Facebook between Q3 and Q4 was amplified in industry vertical data. Retailers spent 257% more on Twitter ads compared to 94% more on Facebook, while businesses and consumer services spent 361% more on Twitter, compared to 211% more on Facebook.
But why? Resolution attributes the increases in part to Twitter's new offerings, which included TV Ad Targeting and Nielsen Twitter TV ratings, both of which helped advertisers better align social with TV. Another important detail: Twitter ads generate more clicks than Facebook ads, the report found.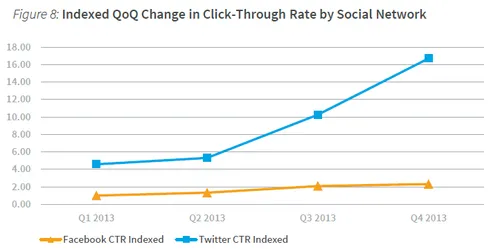 "Twitter ads generate clicks at a much higher rate as advertisers integrate them tightly with broad trends and conversations, serving up straightforward messaging and content directly into relevant conversation streams," the report said. "Importantly, Twitter ads appear within a less cluttered environment than Facebook ads, in the user's Twitter timeline with few additional advertisers."
Advertisers have more reason to pay close attention to Twitter now, too: According to reports, Twitter is preparing to launch 15 new types of ads, including app-install ads that let users click a button and download the app that paid for the ad, right from Apple or Google's app store.
Trying to meet today's business technology needs with yesterday's IT organizational structure is like driving a Model T at the Indy 500. Time for a reset. Read our Transformative CIOs Organize For Success report today. (Free registration required.)