respect their decision and will work with them to ensure an effective transition of this business going forward."
4. Bing capitalizes on tragedy
In 2011 when a tsunami devastated Japan, Microsoft's Bing posted a tweet that read, "How you can #SupportJapan. For every retweet @bing will give $1 to Japan quake victims, up to $100K." The seemingly harmless tweet struck a nerve with many followers, who accused the company of taking advantage of a disaster to promote its brand.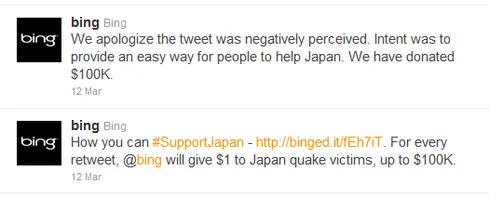 Seven hours later, Bing tweeted an apology: "We apologize the tweet was negatively perceived. Intent was to provide an easy way for people to help Japan. We have donated $100K."
5. HMV executive goes rogue
In January 2013, a social media executive for music chain HMV live-tweeted the firing of 190 staff from the corporate Twitter account. "We're tweeting live from HR where we're all being fired! Exciting!!" the first tweet read.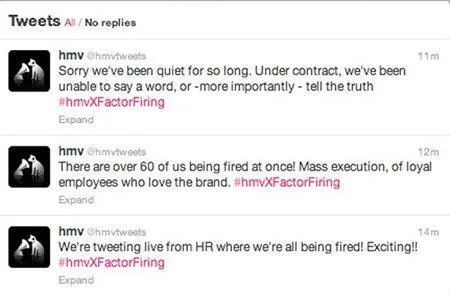 Eventually, the marketing director caught wind of the rogue tweeting, which, of course, someone also live-tweeted: "Just overheard our Marketing Director (he's staying, folks!) ask 'How do I shut down Twitter?' "
6. Kenneth Cole's tasteless tweet
In September, Pentagon spokesman George Little commented on the crisis in Syria and declared that there would be no "boots on the ground" in that country. Fashion brand Kenneth Cole alluded to the Pentagon's assertion with a tasteless tweet that promoted its footwear. It read, " 'Boots on the ground' or not, let's not forget about sandals, pumps and loafers. #Footwear."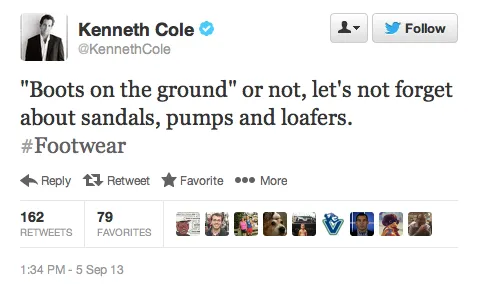 That wasn't the first time Kenneth Cole's Twitter account found itself in hot water: In 2011 it posted a tweet making light of the protests in Egypt. That one read, "Millions are in uproar in #Cairo. Rumor is they heard our new spring collection is now available online."
7. Marc Jacobs intern calls it quits
A disgruntled Mark Jacobs intern said his goodbyes to the fashion company in a series of tweets... on the brand's official page. The rant called out CEO Robert Duffy as a difficult person to work with and ended with, "Yea, walk in my MJ shoes! Don't judge me! I'm alone in this office having to try and entertain you all. This isn't easy. I have tried. Done!"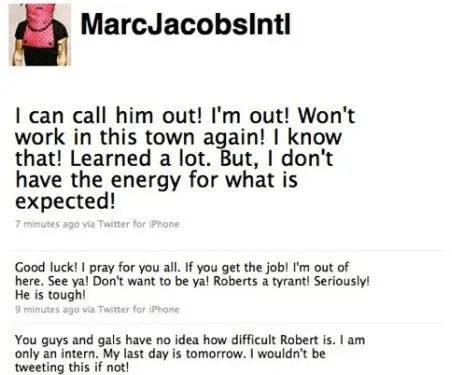 The tweets were deleted several hours later, and the official Twitter account followed up with a post that read, "All is well here at MJ. Twitter is a crazy place. Protect your passwords."
8. Bank of America's robotic misstep
What happens when robots run your Twitter feed? Bank of America's saga started last year when someone tweeted that New York City police chased him away from his "chalkupy" sidewalk chalk drawing outside a Bank of America.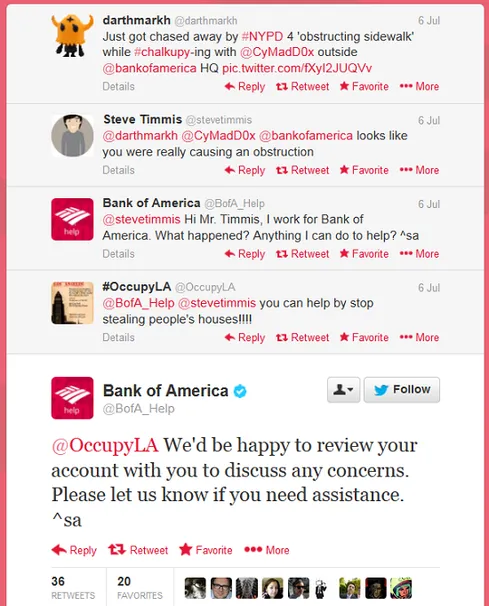 That's when the bots at Bank of America's "BofA_Help" Twitter account picked up on the activity, kicked into high gear, and tweeted the same generic messages to those who commented on the protester's tweet by continuously offering to "review your account with you to discuss any concerns."
Can the trendy tech strategy of DevOps really bring peace between developers and IT operations -- and deliver faster, more reliable app creation and delivery? Also in the DevOps Challenge issue of InformationWeek: Execs charting digital business strategies can't afford to take Internet connectivity for granted.