residency requirements. In this case, perception is reality. That's why SaaS vendors including Salesforce.com and others are building data centers in Europe.
3. SaaS is for lightweight apps.
This view is so five-years-ago. On a scale of 1="inappropriate" to 5="perfect fit" for cloud (and not counting free, consumer-oriented apps), respondents rank collaboration (email, chat, calendar, wiki, video conference) first, productivity (Microsoft Office 365, Google Apps) second, CRM third, analytics fourth, and ERP fifth, but even ERP had a mean average rating of 2.9 on the one-to-five scale. The upshot is that even ERP is now on the table, as vendors such as NetSuite and Workday are proving.
[Can your retail site handle the busiest shopping day of the year? Read Black Friday: How To Avoid Ecommerce Disaster.]
4. SaaS is for small and midsized companies.
This is another old saw that's worn out. The revenue and employee-count distribution for companies using SaaS didn't differ significantly from the distribution among all survey respondents. In fact, SaaS-user companies are more likely to be from organizations with 1,000+ employees than <1,000 employees (55% vs. 45%) whereas revenue is distributed across the board. Also of note, 67% of very large organizations (with 10,000+ employees) are already using SaaS, whereas that figure stands at 59% among very small firms (with fewer than 50 employees).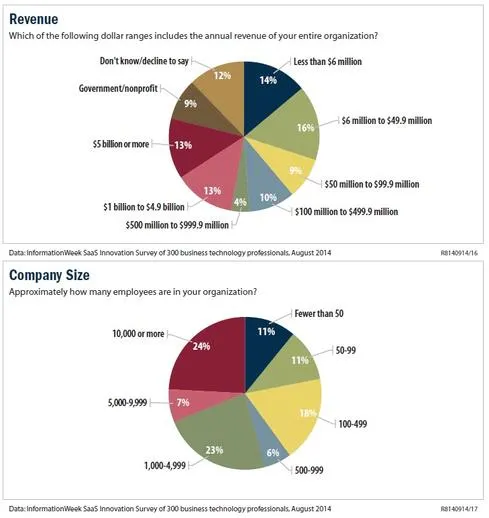 5. SaaS saves time and money.
Although many agree with these sentiments, others don't. In fact, 15% of SaaS users report that SaaS offers "no benefit" in the context of the statement, "We save money because little or no IT staff time is required for operation." And 19% said there's no benefit when asked whether "SaaS vendors meet their SLAs without IT involvement." SaaS services can seldom operate in isolation, so you have to expect some IT work in order to integrate with on-premises IT apps and data sources.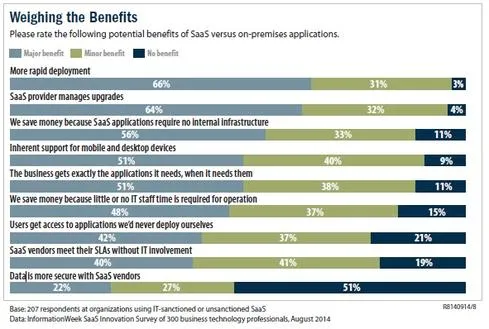 This is a partial take on our InformationWeek SaaS Innovation Survey. To see all of the results, download the SaaS As Innovation Driver report.
You've realized the easy gains from SaaS. Now it's time to dig into PaaS, performance, and more. Get the new Your Next Cloud Move issue of InformationWeek Tech Digest today. (Free registration required.)