When the Apple Watch debuts next month, among the first enterprise application vendors ready with native apps will be Salesforce, which announced this week it will have a Salesforce Analytics Cloud App and a Salesforce1 mobile app developed specifically for the tiny wrist-based interface.
So what can you do from the Apple Watch that wasn't already supported on the iPhone, which has to be nearby to support the apps and give the wrist-based device connectivity to the Internet? The short answer is nothing, but there are things that you might find easier or more polite to consume information from the watch.
"You're going to be able to get things like immediate notifications on simple yes/no decision," Peter Coffee, Salesforce vice president for Strategic Research, told InformationWeek in a phone interview. "If there's a request to offer a discount to a customer, for example, you're not going to need to pull out your phone and constantly look to see if that request has been approved. The watch will flash that notification, you can glance at it, and just continue the conversation without breaking the flow."
[Want more on this topic? Read Apple Watch Event: 10 Things We Learned.]
Apple is clearly a complementary device to the iPhone, but wrist-based interaction might make more sense when you're on the go or in a conversation or a meeting, so can be more discreet about checking on information. In the case of the Salesforce1 app, a salesperson can see an upcoming appointment on the watch, tap on that link and then drill down on how many open service cases that company has, how many open deals it has right now, and what's the projected value of those deals? In the case of the Analytics Cloud App, users will be able to tap on a bar chart or KPI that they follow and quickly drill down deeper data by customer or territory.
"It may seem unlikely to people who are used to needing a master-of-the-universe three-screen display to get anything done, but if you look at how well Apple has engineered the Taptic engine for the watch, I think they'll be pleasantly surprised how much they get done on the watch before they have to go to a device as large as the phone," said Coffee.
Individuals will be able to create customized choices of a few questions they want to see on their Apple Watch, and companies will be able to roll out dashboards to all salespeople, for example, surfacing key customer indicators.
"If you're trying to sell a customer something and they have a really big, red bar on service cases, one tap would let quickly drill in to find out how many have been open for more than 30 days, so you can be informed with current data before you go into that conversation," said Coffee.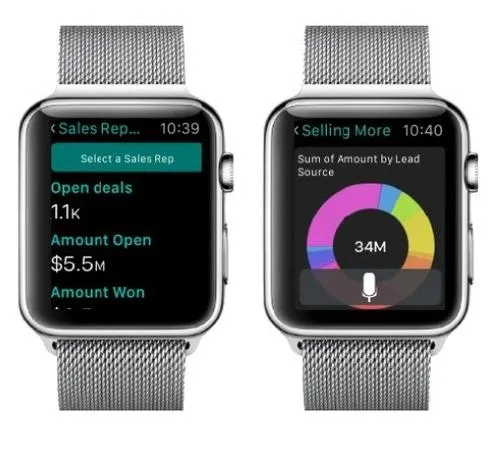 The Salesforce apps were featured in Monday's presentations by Apple in large part because Salesforce was early to jump on the Apple Watch bandwagon. Last June the company launched its Salesforce Wear development platform for wearables devices starting with Google Glass and the Samsung Gear 2 Smartwatch, and it subsequently added support for the Apple Watch, as well as Epson Moverio augmented-reality smart glasses, the Jawbone UP activity-tracking wristband, Meta Glasses augmented-reality 3D smart glasses, the Oculus Rift virtual reality 3D headset, and Vuzix M100 Smart Glasses.
The Salesforce Wear Developer Pack is already available for developing custom native Apple Watch applications. "It's not just being able to build apps quickly for particular devices," said Coffee of the development platform. "We're providing reference applications for all these devices, but if you build them in this environment, you're data is curated in an environment that's proven to be have high-availability, high-scalability, and a high degree of trust and on data-privileges, management, and protection."
The Salesforce Analytics Cloud App for Apple Watch will be available April 24, when the watch is set for release, to those who have licensed the Analytics Cloud. The same free availability and release data applies to those who have licensed the Saleforce1 Mobile app. The Salesforce Wear Developer Pack for Apple Watch is available immediately at no charge to those who have licensed the Salesforce Wear development platform.
Attend Interop Las Vegas, the leading independent technology conference and expo series designed to inspire, inform, and connect the world's IT community. In 2015, look for all new programs, networking opportunities, and classes that will help you set your organization's IT action plan. It happens April 27 to May 1. Register with Discount Code MPOIWK for $200 off Total Access & Conference Passes.