Enterprise Connect 2016 opened in Orlando March 7 with a look at trends in unified communications (UC), and whether the path the industry is taking will get it from the current fragmented state to the promised state of seamless UC across platforms and vendors.
The answer from the assembled experts participating in the UC Summit general session was a resounding "maybe."
At the crux of the discussion was the question of which will be the most important driver for UC going forward: mobile technology, employee workflow apps, video, or the cloud.
It was, in all, a discussion of degree rather than direction. No matter the degree of the change, there was broad agreement that mobile is a crucial factor in the future of UC, and it requires a simplified, direct user experience. Part of that user experience is tied up in the app that carries the communications, and the nature of that app needs to focus on workflow in order to succeed.
At the same time, demand for video communication and the scalability offered by the cloud are changing the dynamic for UC in the enterprise. In short: The way we work is changing, and UC sits at the center of that change.

Are you prepared for a new world of enterprise mobility? Attend the Wireless & Mobility Track at Interop Las Vegas, May 2-6. Register now!
Panelists agreed that the generational shift happening in the workplace will push everyone to make workflows accessible through simplified interfaces on mobile devices. According to Wes Durow, chief marketing officer at Mitel Networks, "The experience has to be the same thing our kids are used to today. We need to reset our entry points."
In fact, according to Rowan Trollope, senior vice president and general manager, IoT & Collaboration Technology Group, Cisco, "The biggest change in the last 10 years is mobile, and the biggest change on mobile is messaging. We saw that as a major transformation for business communications. We said that messaging would be the hub around which things revolved, whether voice, video, or anything else."
However, Zig Serafin, corporate vice president of Skype Business Services, Microsoft, pointed out that most users expect a seamless experience and are not thinking about video and voice as distinct or separate factors. Rather, "they're thinking about one infrastructure that people use for different modalities," said Serafin.
"By and large, it's [about] adapting to what we, as humans, want to do. If you look at the number of devices we run around with, people are expecting a mobility of experience across whatever devices they're using. They don't want to have to relearn a completely new habit."
For example, Adam Swidler, technology evangelist for Google for Work, said the company is seeing distinct patterns in the way that users approach messaging as part of a cloud-based workflow. "We're seeing a ton of work going on within a document where users don't need a telephone call -- everything happens within chat and comments around a document," he said. "We're seeing people approach it from a new way to work, regardless of where they are in the world."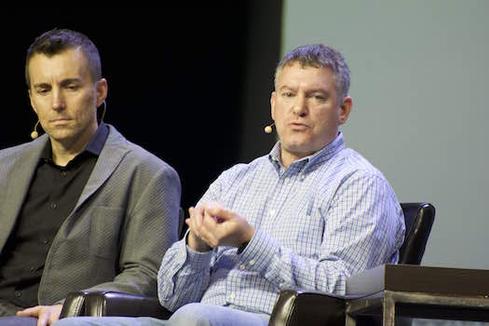 The key, according to Mitel's Durow, is knowing which environment you're designing your UC projects for. "Are we designing for mobile first, or for a desktop environment first?" he said. "When you design for mobile, you really want to simplify the user interface and the user experience."
An enterprise moving in the direction of cloud-based UC will have to accept some changes. Cisco's Trollope was pointed in his description of the public cloud's reality. "The biggest thing that's transformed with the cloud is that there is one version of the cloud. You basically take an architecture where you can deliver the same experience to millions of people and iterate quickly. Updates are pushed frequently, and they're pushed to millions of people at the same time. That's a really important distinction that's not popular with every customer."
According to Google's Swidler, "The cloud is a bit of a paradox for an enterprise that's used to getting everything they want that's custom for them. If you have to build 10,000 custom clouds, you lose the optimization and reliability of the cloud. That's a paradox: If you want to consume some of the incredibly reliable infrastructure provided by cloud providers, it's not going to be the way it was before."
He continued, "Video is the way. That's where we should start, and then move to something else."
The question that remains, for vendors and enterprise IT professionals alike, is how to do that without layering complexity and expense on top of the current network stack. But that's a subject for another panel on another day.
[Editor's note: The photo caption has been updated to identify Zig Serafin.]