Many might think infrastructure-as-a-service (IaaS) is the part of the cloud that's top-of-mind, given the success of Amazon Web Services. But software-as-a-service (SaaS) is the category that's growing the fastest, according to a recent report from Synergy Research Group's John Dinsdale.
The enterprise SaaS market grew at a rate of 40% in 2015, and Synergy projects it will triple its current size over the next five years, according to the April 18 Synergy report.
"In many ways SaaS is a more mature market than other cloud markets like IaaS or PaaS," John Dinsdale, chief analyst and research director at Synergy wrote. "However, even for SaaS, it is still early days in terms of market adoption."
The more striking change highlighted by the 2015 assessment was how some tech vendors had adapted more quickly to enterprise SaaS preferences than others. Foremost among the quickest adapters was Microsoft.
"It is notable that the big three traditional software vendors -- Microsoft, Oracle and IBM --are all now growing their SaaS revenues faster than the overall market," Dinsdale added. Those revenues still constitute less than 8% of their total software revenues, but a market shift has clearly started across the board.
[Want to learn more about Microsoft's latest SaaS service? Read Microsoft Cloud App Security Now Generally Available.]
Salesforce.com, the initial pioneer of SaaS, is still its largest vendor, representing about 14.8% of the market, according to a chart Synergy presented with its research note. But Microsoft is not far behind, having added three percentage points to its marketshare in 2015. It now represents about 13% of the SaaS market.
Learn to integrate the cloud into legacy systems and new initiatives. Attend the Cloud Connect Track at Interop Las Vegas, May 2-6. Register now!
Microsoft's SaaS sales are growing at a much faster pace than Salesforce's, Dinsdale wrote. Last year Microsoft's SaaS sales increased at a rate of 70%, compared to Salesforce's 21%.
In my estimation, if Microsoft's SaaS revenues continue to come in at that pace, it will become the world's largest SaaS vendor sometime in 2016.
Microsoft has invested heavily in making many of the productivity features available in the Microsoft Office and Outlook available in its SaaS versions of the software. In 2013, it added collaborative and document-sharing capabilities to Office documents.
In November 2014, it made Office available on Apple iOS devices and on Android devices.
More recently, Microsoft announced that features of Office 365 and Office Online have been extended to work with other services in the cloud, including Box, Dropbox, Citrix ShareFile, and Egnyte. Earlier this month, it said it was making available a new service called Cloud App Security.
If Microsoft is adapting successfully to SaaS, it's less certain that other established vendors will fare as well.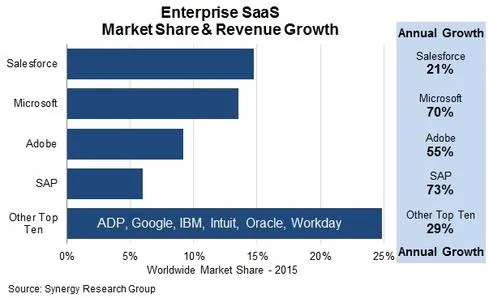 SAP was the only former licensed package software vendor that was also growing fast as a SaaS provider. Synergy's research note didn't say why, but listed its 2015 rate of growth as 73%. That's on a much smaller starting base of cloud revenues than Microsoft or Salesforce. At the end of 2015, SAP represented a little over 6% of the SaaS market, according to the chart presented by Synergy.
SAP's in its own early statement on first quarter revenues for 2016 said the cloud portion was growing at a 35% rate.
However the revenues shake out, a substantial share in SAP's case may relate to the uptake of its HANA Enterprise Cloud Platform, now available through IBM's cloud service, as well as SAP's.
Adobe also appeared in Dinsdale's summary of the SaaS market as the holder of about 9% marketshare.
IBM, Google, Oracle, Workday, ADP, and Intuit were lumped together in a bottom bar on the chart. Those companies amounted to 25% of the market, without any specific breakdown of what each one represented, according to the report.