Larry Ellison kicked off this week's Oracle OpenWorld 2014 extravaganza in San Francisco on Sunday night declaring that Oracle has reached a cloud inflection point in 2014.
His list of claims was long, noting that Oracle is delivering "by far the largest" software-as-a-service apps portfolio, a "massively upgraded" platform-as-a-service featuring Oracle Database 12c, and a focus on cloud-infrastructure security, availability, and cost-of-ownership through which it will go toe-to-toe with Amazon, Microsoft, Google, "or any other cloud platform provider."
It was vintage Larry Ellison, complete with plentiful claims of market superiority, several laugh-inducing barbs slung at Salesforce.com, SAP, and Workday, and the familiar feeling that you've heard these claims before. For the first time in his 37-year history with Oracle, Ellison was speaking as Executive Chairman and CTO, having recently handed his CEO title to Safra Catz and Mark Hurd. But there was no difference in Ellison's approach, focusing, as always, on technology, products, and competitors.
[Want more on Oracle's executive title changes? Read Oracle Leader Ellison Is Not 'Stepping Down'. ]
On the SaaS front, Ellison declared Oracle to be closing on Salesforce.com in sales cloud services, "neck and neck" in service cloud offerings, and No. 1 in marketing cloud services, with "more customers and more applications than anybody" thanks to 29 new marketing cloud services developed or acquired in 2014.
In the human resources market, Ellison said Oracle has long been the cloud leader in talent management (thanks to its 2012 acquisition of Taleo) but over the last two quarters, he said, Fusion HCM has become the largest-selling cloud-based human capital management system, ahead of SAP and Workday offerings.
"The reason we're selling more core HCM than anybody else is that ours is tightly coupled with our social tools," he said. "Of course you have to do payroll and benefits, but that's table stakes. Modern HCM has to enable employees to communicate quickly and clearly, so we have all the tools for social HCM."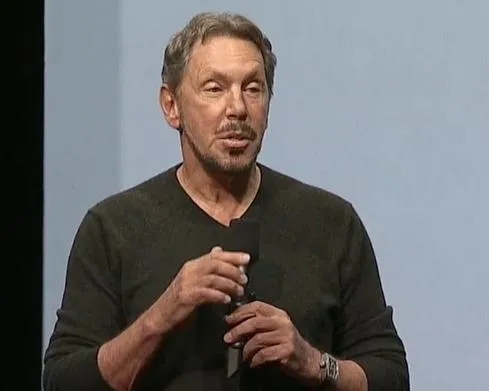 Declaring ERP to be the third and coming wave in cloud applications, Ellison said Oracle is the first company selling cloud-based ERP to midmarket and high-end companies (a distinction Workday would surely contest). He said Oracle now offers financial-management, project-management, and procurement apps in the cloud and is the "first-mover" into supply-chain-management in the cloud.
Oracle has gained 725 new Oracle Fusion Applications customers over the last 12 months, Ellison noted, including 327 new customer experience Sales Cloud customers, 252 new HCM customers, and 263 new ERP and enterprise performance management customers.
Familiar promises, pointed barbs
Ellison's platform-as-a-service claims sounded familiar, in part because he announced the company's PaaS ambitions at Oracle OpenWorld 2012, and he announced the first services, around Java middleware and Oracle Database services, at Oracle OpenWorld 2013. The upgraded PaaS launched in September features improvements including the Oracle Database In-Memory option, introduced in June, which promises faster performance, as well as social- and mobile-enablement services. Customers can move their apps and services from their own data centers to Oracle's cloud "with the push of a button, and without changing a line of code," he vowed.
Ellison distinguished Oracle as "the only cloud vendor that lets you use the same platform it builds on to extend cloud apps." That's a contrast with Salesforce.com, which, he said, "uses Oracle's platform" to build its apps while relegating customers to extending apps with its "proprietary" Force.com and Salesforce1 platforms. Ellison hastened to add that "Salesforce is the best of the rest because at least they have a platform. The other guys -- Workday -- they don't even have a platform. It's missing in action."
Ellison said he would "try to be nice" about SAP, but then confessed: "I have no idea what runs on Hana, but it ain't your cloud. It's rude, but it's the truth. Hana powers the cloud? What cloud? Where? Let's just talk about Earth."
Ellison wrapped up his keynote with a laundry list of Engineered Systems news, including:
An upgraded version of Oracle Exalytics promising higher concurrency and performance
An all-new Oracle Zero Data Loss Recovery Appliance for automated database backups and recovery
An Oracle FS1 Flash Storage Enterprise SAN device set for release in November
An M7 chip set to debut in the Sun Sparc line in 2015 incorporating Oracle Database acceleration features and memory-protection security features designed to thwart malicious code
As cloud-focused as Ellison made Oracle sound, the numbers from the company's most recent quarterly report seem at odds with the "inflection point" claim. The lion's share, 53% of revenue, came from on-premises software license updates and support, 17% came from new software licenses, just 3% came from SaaS and Pass, and 1% came from infrastructure-as-a-service.
Oracle has come a long way in developing its SaaS, PaaS, and IaaS offerings, but Ellison's final assessment -- that Oracle is "just getting started" in the cloud -- could just as easily be a statement about how far it has to go before it's, first and foremost, a cloud computing vendor.
Avoiding audits and vendor fines isn't enough. Take control of licensing to exact deeper software discounts and match purchasing to actual employee needs. Get the Software Licensing issue of InformationWeek today.