"Everything is awesome!" Alluding to The Lego Movie theme song is how analyst Phil Winslow of Credit Suisse summed up the Salesforce fourth-quarter and fiscal-year 2015 results on Wednesday during the company's latest earnings call with the financial community.
Particularly awesome, according to Salesforce CEO Marc Benioff and president Keith Block, were results for the company's service cloud and just-launched analytics cloud.
Salesforce beat expectations on multiple fronts, reporting $5.37 billion in revenue for the fiscal year ended January 31, a 32% increase over prior-year results. Salesforce raised its guidance for fiscal year 2016 to $6.48 billion to $6.52 billion, up from previous guidance of $6.45 billion to $6.5 billion and average analyst estimates of $6.5 billion, according to Bloomberg.
[ Want more on the latest Salesforce cloud? Read Salesforce Wave Analytics Cloud: Pros & Cons. ]
"This is the fastest any software company has reached $5 billion in revenue, and in 90 days we're going to be on the phone talking about reaching a $6 billion run rate," said Benioff.
More than 550 seven- and eight-figure deals with large enterprises powered the company's fiscal 2015 results, according to Block. Eight-figure deals were up 33% over the prior-year period, he said. Block cited large transactions with Timer Warner, chemical giant Merck KGaA of Germany, and automation and power-technologies company ABB (Asea Brown Boveri) Group of Zurich.
"No other cloud-computing company is closing transactions of this size, at this scale and volume," said Block, who joined Salesforce in 2013, a year after leaving Oracle. "Companies want more meaningful relationships with Salesforce. They're not just buying a single cloud, they're betting their businesses on our vision."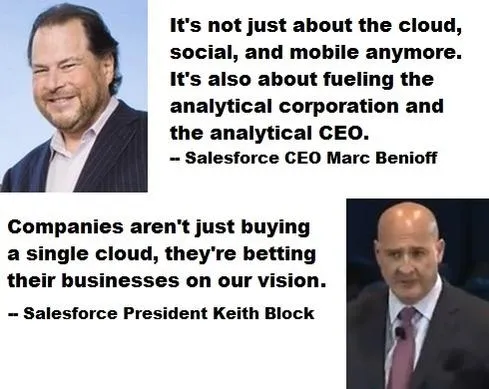 The Salesforce platform now comprises six clouds: Sales, Service, Marketing, Community, Analytics, and the Force.com cloud-development platform. The Sales Cloud remains the largest of these clouds, but the Service cloud is now coming into its own in displacing legacy SAP and Oracle deployments, Benioff said.
"Oracle bought RightNow, and they have their own Fusion service product, but they've turned Fusion into confusion," Benioff said. "If you move on to SAP, they will come into customers and say, 'just use Hana,' but for what and how? There's a customer-service revolution going on, but the traditional keepers of customer-service information, Oracle and SAP, have just not delivered, while we have."
The Salesforce Wave Analytics cloud, introduced at last year's Dreamforce event, is also driving deals with big enterprises, according to Benioff and Block. Both executives said Wave is gaining adoption faster than any previous Salesforce product launch, with GE Capital, Merck, and Time Warner mentioned as early adopters.
Salesforce does not break out revenue by cloud, so it's impossible to validate claims about Service Cloud and Analytics Cloud performance. But asked what will propel long-term growth -- beyond the company goal of $10 billion in annual revenue, which now seems inevitable -- Benioff predicted analytics would fill that bill.
"I'm very excited about our investments in data science and analytics," said Benioff. "It's not just about the cloud, social, and mobile anymore. It's also about fueling the analytical corporation and the analytical CEO… That's our biggest, most exciting revenue opportunity."
Attend Interop Las Vegas, the leading independent technology conference and expo series designed to inspire, inform, and connect the world's IT community. In 2015, look for all new programs, networking opportunities, and classes that will help you set your organization's IT action plan. It happens April 27 to May 1. Register with Discount Code MPOIWK for $200 off Total Access & Conference Passes.