Among of the many critical enterprise applications, there are few more important than customer relations management (CRM) software in today's world of IT. Zoho has released the latest version of Zoho CRM, a version that it is calling "the industry's first multichannel CRM" with a mobile app, dedicated sales-oriented email client, and cloud-based SalesSignals application that pulls together social media, user feedback, support ticket tracking, and other customer-based actions.
Zoho isn't the first option many IT specialists think of when the topic is CRM, but in a telephone conversation with Raju Vegesna, chief evangelist at Zoho, he said that Zoho currently has some 300,000 businesses actively using Zoho CRM. He put that number in context, saying that Zoho has 20 million users and is adding 700,000 new users each month.
While the new edition of Zoho CRM adds approximately 50 new features, Vegesna focused on parts of the application that deal with three major functions -- analysis, communications, and incentive -- as potential break-out features intended to help Zoho compete with giants like Salesforce.com in the CRM marketplace.
Sales activity analysis is the target of SalesSignals. Vegesna said that, "SalesSignals provides real-time info of a customer across channels. It allows someone to get a real-time view of what a particular customer is doing." The "channels" that SalesSignals analyzes include traditional activities like phone calls, email, and customer visits, and newer activities including social media, chat messages, and service tickets.
Asked about sales activity reporting, Vegesna said that SalesSignals reports can be shared with sales managers, and aggregate reports can be generated for management and executives. In addition, sales professionals and managers can create and employ multiple filters for the information being tracked so that trends and outliers can be more easily seen.
The communications aspect of CRM is the target of SalesInbox, described by Zoho as, "a dedicated mail client for salespeople." In SalesInbox, email is organized along the same lines as in CRM -- lines such as prospects, customers, sources, and similar functions.
Vegesna said that the reason for SalesInbox is simple. "The new product is based on the fact that email and CRM are the most used apps by salespeople." He went on to explain that users can, "apply a filter from CRM to the inbox and arrange the messages in columns by category. It's very easy to drag messages between columns and add contacts or opportunities."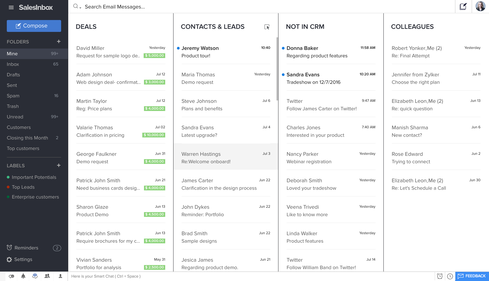 When sales professionals can see their activities more clearly the assumption is that they'll do their job more effectively.
Zoho is also adding the ability for managers and sales leaders to increase sales activity with two new applications, Zoho Motivator and Zoho GameScope. Of the two, Motivator is intended as a management tool for adding sales contests, while GameScope allows any user to create a context. Members of a sales team could easily create ad hoc contests to spur one another on within the scope of larger sales activities developed by management.
[Read Salesforce Cements CRM Leadership With Demandware Buy.]
All user features of the new release are available both in browser-based versions and a mobile app for salespeople. In addition, Vegesna pointed out the Zoho ecosystem that includes Zoho Developer and the Zoho Marketplace, tools designed to allow application developers to build, buy, and sell applications and extension to other Zoho users.
One of the key points, Vegesna said, is that Zoho reviews and approves apps before they're released in the Marketplace, but charges no fee for listing and no commission on application sales.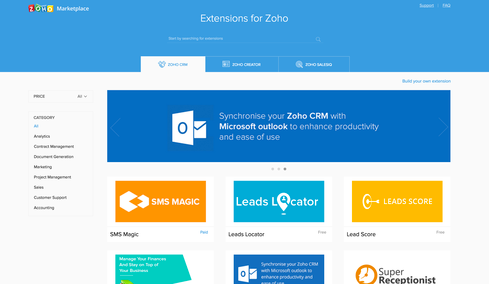 Vegesna said that Zoho hopes to increase new users to one million per month by the end of 2016. Smaller companies may be enticed by a price for CRM that is the same as for many other Zoho features. Organizations with up to 10 users may use Zoho CRM free, with some features topping out at 5 users before fees begin.
(Cover image: NorthernStock/iStockphoto)