for $9.99 per month or $99.99 per year. It supports up to five PCs or Macs and up to five Windows tablets or iPads. The company offers separate packages for enterprises.
3. Office Online gets new features.
Microsoft's Web-based Office Online apps have always boasted stronger document fidelity than some competitors, which is important if you're collaborating with other Office users. But in features and usability, Office Online has only gradually come along. This week, Microsoft added a barrage of new features.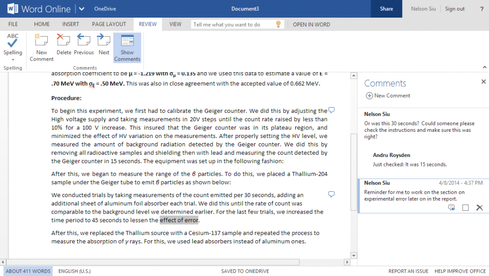 Word Online now allows comments during editing, rather than just in View mode. It also allows multiple users to make comments simultaneously. The Web app also supports inline footnotes, which allow users to insert footnotes without leaving their current context. Other additions include improved auto-number list tools, the ability to download documents as PDFs, better rendering of tables, and improved compatibility with Internet Explorer and Chrome PDF readers.
Excel Online now boasts Microsoft's Tell Me feature. Previously available in Word Online, Tell Me lets users ask how to do something, and then presents a list of relevant actions. Excel Online users can also create, edit, and delete comments, rather than just view existing ones. Other additions include the ability to reveal hidden columns and support for Excel workbooks that use Visual Basic for Applications.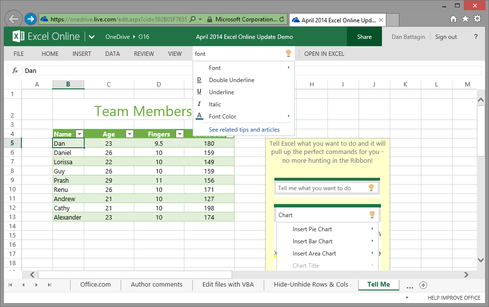 PowerPoint Online also now includes Tell Me. In addition, it boasts a new layout that makes the editing process more closely mirror the finished presentation. Other improvements include the ability to play embedded YouTube videos.
4. Microsoft throws Chrome a bone.
For the first time, Chrome users can launch Office Online apps from the Chrome App Launcher, bringing one-click simplicity to a process that previously entailed firing up the browser. Chrome users still don't have native apps like Mac, Windows, and iPad users do -- but the fact that Microsoft did anything to acknowledge Chrome users is noteworthy.
If you haven't noticed, Microsoft and Google haven't been on friendly terms lately. Microsoft's Scroogled campaign is reportedly winding down, but the company's TV ads still trumpet that Windows devices don't need to be online to be productive, a none-too-veiled (and somewhat inaccurate) swipe at Chromebooks. Google, meanwhile, has happily touted Chromebooks to disgruntled Windows XP users.
Emerging standards for hybrid clouds and converged datacenters promise to break vendors' proprietary hold. Also in the Lose The Lock-In issue of InformationWeek: The future datacenter will come in a neat package (free registration required).